Institute of Chemical and Biological Technologies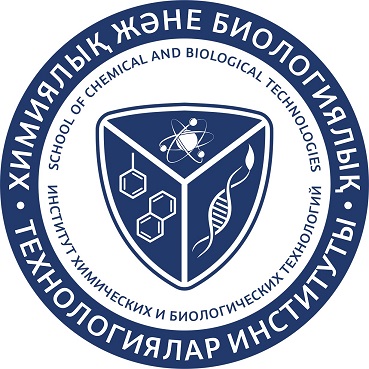 IC&BT prepares specialists at all three levels of education (Bachelor's, Master's, Doctorate) in the field of chemical engineering and processes, engineering biotechnology, environmental specialists in the field of environmental protection for chemical, petrochemical, biotechnological, energy, mining and metallurgical, oil production and oil refining and petrochemical industries.
Zoya K. Tuyebakhova

Director of Chemical and Biological Technologies Institute

Professor Zoya K. Tuyebakhova graduated from Moscow Institute of Chemical Technology named after D.I. Mendeleyev (MICT) with honors, after which she was recommended by Academic Council of MICT for postgraduate studies at the now Russian Chemical-Technological University named after D.I. Mendeleyev. She has extensive experience in scientific and pedagogical activities and managerial work in the higher education system both in Kazakhstan and abroad. She has over 60 scientific papers and inventions in the Russian, English and Turkish languages.

For a number of years she worked as Vice-Rector for Academic Affairs at KBTU, where, under her leadership, for the first time in Kazakhstan, the university received the international accreditation of IMAREST (UK) programs in chemical engineering, and KBTU International School of Economics became an affiliated center of London University (UoL, UK). She acted as the coordinator of "Kazakhstan Maritime Academy (KMA)" international project: the KMA faculty is successfully working at KBTU. Zoya Kaimovna is one of the few women - representatives of Kazakhstan who became Professor of Engineering Faculty at the foreign Yeditepe University (Istanbul).

Since 2017, she has been occupying the post of Director at Chemical and Biological Technologies Institute (IC&BT) of Satbayev University. She initiated the creation of "Chemical and Biochemical Engineering" new educational program as well as "Foundation School" and "Satbayev University - Schools of Almaty" projects. She is fluent in four languages. Zoya K. Tuyebakhova was awarded "20 years of Independence of the Republic of Kazakhstan" jubilee medal, Certificate of Honor of Almaty Akim, Certificate of Honor of RK Education and Science Minister and "85 years of KazNRTU named after K.I. Satbayev" jubilee medal.
Chemical and biochemical engineering is a high-tech industry based on a fine knowledge of chemical and biological processes that are used to create new technologies and materials, increase and enhance production efficiency, and play a decisive role in the processing of industrial waste. Students, undergraduates and doctoral students of the institute study the basic processes of synthesis and production of new polymeric materials applying innovative technologies that are necessary for converting raw materials and auxiliary materials into new inorganic and organic materials.
Institute develops new approaches in chemical and biochemical engineering, environmental technology, trains new generation of engineers and technicians as well as future leaders of large industrial chemical and biochemical industries, bio ecological engineering and business leaders.
The history of IC&BT originates from "General Chemistry", "Physical and Analytical Chemistry" departments, later transformed into "Physical and Organic Chemistry" department. The given departments were part of Kazakh Mining and Metallurgical Institute (1934) - this was the name of KazNRTU named after K.I.Satbayev / Satbayev University at that time. At the origins of organization of departments were outstanding teachers-scientists who created and developed the chemical and petrochemical industries, the phosphorus industry, the production of mineral fertilizers, and non-ferrous metallurgy of Kazakhstan.
Today, Institute is a leader in the field of training specialists in chemical and biochemical engineering, engineers - biotechnologists and bio-ecologists for a variety of industries.
Since 2018, IC&BT has been working under "Chemical and biochemical engineering" new educational program (EP) approved by RK Education and Science Ministry dated April 2018. A feature of this new program is that all students, who entered our institute to be trained in Chemical engineering and processes, Engineering biotechnology and bio-ecology, Chemical engineering of hydrocarbon compounds, the first four semesters, that is, the first two years of study pass a single basic engineering fundamental training. They held it in chemical and biological disciplines, mathematics and physics, and they are acquainted with the basics of chemical and biochemical engineering. Starting from the fifth semester, that is, from the third year of study at the university, students begin to take specialized disciplines both in the direction of their future activities / specialty, and at the junction of specialties as well.
The teaching of disciplines at all three levels of education, as well as the implementation of theses and projects in Bachelor degree, dealing with dissertations in Magistracy and Doctoral studies are conducted in three languages: Kazakh, Russian and English.
Director and his two deputies, brilliant professionals Irina A. Portnyagina and Seitkhan Azat, carry out the management of IC&BT multinational composition.
As part of IC&BT, today there are two departments: "Chemical and biochemical engineering" (C&BE) and "Chemical processes and industrial ecology" (CP&IE). The high level of students is supported by a highly qualified team of teaching staff with extensive practical, scientific and pedagogical experience, which successfully ensures the trinity of education, science and production.
Currently, within the walls of our institute the holders of "The best teacher of the university" title, Professors Yelikbayev B.K. and Selenova B.S., associate professors Raphikov Kh.S. and Seitkhan Azat, holders of scholarships for young scientists of RK First President Foundation and RK Education and Science Ministry G.S. Aitkaliyeva and Seitkhan Azat are working. The winner of "Best Young Scientist of Kazakhstan" title for several times Azat Seitkhan has occupied the post of IC&BT Deputy Director for scientific and educational activities.
In 2018 associate professor, Raphikova Kh.S. and IC&BT doctoral student Diyas Tastanbekov became laureates of "One hundred new people of Kazakhstan" republican project.
Institute's laboratories are equipped with modern equipment for laboratory work in general, inorganic, physical, colloidal and analytical and organic chemistry, petro chemistry, oil-gas chemistry, polymer chemistry, biotechnology, bio-ecology and industrial ecology. Students also have access to virtual laboratory work system; they successfully participate in scientific projects and research, conferences, Olympiads, and traditional Satbayev readings.
IC&BT has wide contacts with universities of European Union, the USA and Asia, cooperates with Pennsylvania State University (USA), University Sains Malaysia (Malaysia), Moscow Technological University (Russia) as well as Belarusian State Technological University (Belarus). In addition, IC&BT has been collaborating with Belostok Technical University (Poland), Russian University of Chemical Technology named after D.I. Mendeleyev, Yeditepe University (Istanbul, Turkey), Istanbul Teknik Universitesi, Nancy University (France), Chemical-Technological and Metallurgical University (Bulgaria), Kazan National Research Technological University and other CIS universities.
Institute invites leading teachers - scientists from various countries of the world both for teaching and for joint research projects, co-supervising dissertations of our doctoral students.
Institute's teachers and students participate in "Bolashak" Presidential educational program, in Tempus, Erasmus, Newton-al-Farabi international programs, undergo language internships in English-speaking countries, professional internships at foreign universities and at partners' enterprises in scientific and educational approach education - science - production.
Institute maintains partnerships with such leading representatives of oil-gas chemical industries of Kazakhstan as Atyrau Oil Refinery, Pavlodar Petrochemical Plant, Kazakh Gas Processing Plant, with companies such as Intergas-Central Asia, Tengizchevroil and Fluor Corporation, with "Organic" Independent Center for Expertise of Oil Products, JSC "Orenburg Minerals" (Yasny, Orenburg region), etc.
In 2018, at the initiative of IC&BT Director Zoya K. Tuyebakhova, "Fundamentals of Chemistry" educational program was launched, it allows to significantly improve the qualifications of teachers and employees working in chemical and biochemical engineering sphere, and in other areas of engineering training. The program is designed to fill gaps in the knowledge of yesterday's schoolchildren for the development and strengthening of analytical thinking, as well as for acquiring and further strengthening their professional skills, better mastering of subsequent chemical and engineering disciplines as well. The program is also open for schoolteachers, university teachers and secondary school students in Kazakh, Russian and English.
Chemical and Biological Technologies Institute is actively conducting recruitment companies in Almaty and the region, in various areas of Kazakhstan. In order to attract the most talented young people to our University in 2017 and 2018, trips to Nazarbayev Intellectual Schools in the South Kazakhstan region, to schools for gifted children "BALDAUREN" were organized with demonstration of memorable chemical experiments and reading of overview lectures. During such meetings, schoolchildren are acquainted with educational programs, research projects of Satbayev University (KazNRTU named after K.I.Satbayev).
Since 2020, IC&BT has been actively working in conjunction with Education Department of Almaty city on "Satbayev University for Schools of Almaty" project. From June 8 to June 21, 2020, for the first time, classes and consultations in Kazakh and Russian languages were organized for all willing graduates of 129 schools in Almaty who chose chemistry as one of the two specialized disciplines of Unified National Testing.
At IC&BT, the teaching staff's research work is earnestly carried out with the active involvement of students, undergraduates and doctoral students in implementing scientific projects. In 2018, Institute became the owner of three projects of grant financing under RK Education and Science Ministry, as well as Program-Targeted Funding (PTF) project № BR05236302 "Scientific and technical substantiation of innovations in the chemical cluster in creating new materials and technologies field to improve efficiency and environmental sustainability of industrial production". The total amount of PTF was 368,665,976 (three hundred sixty-eight million six hundred sixty-five thousand nine hundred and seventy-six) tenge.
The first holders of scientific grants-2020 of RK Education and Science Ministry in 2020-2021 new academic year were:
- C&BE department Head, Doctor PhD, Associate Professor Raphikova Kh.S. with "Metal-containing ionic liquids in agro-chemistry" project (2020-2022);
- Doctor of chemical sciences, Professor of C&BE department Selenova B.S. "Development of polymer-metal multilayer nano-catalysts" (2020-2021);
- Doctor of chemical sciences, Professor of CP&IE department Iskakova T.K. "Development of innovative water-saving technologies using new biopolymer moisture sorbents for arid climatic zones" (2020-2021);
- Doctor of biological sciences, Professor of CP&IE department Yelikbayev B.K. "Scientific substantiation for selecting plants-hyper accumulators for phytoremediation of soils contaminated with heavy metals in Almaty" (2020-2021).
Educational programs
Undergraduate

Graduate

PhD

Second education