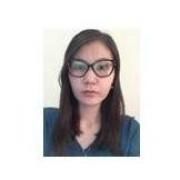 Baibusinova Zhanar
Master of Technical Sciences
Lecturer
Geology and Oil-gas Business Institute named after K. Turyssov
Email: zh.baibussinova@satbayev.111
Professional biography
Baybusinova Zhanar began her career in October 2015 immediately after completing the master's program "Reservoir evaluation & management" at Heriot-Watt University with the position "Head of the training laboratory" of the Department of Petroleum Engineering at KBTU. From January 2016 to June 2016 she worked as a lecturer at the Department of Petroleum Engineering at KBTU. From August 2016 to the present, he has been working as a Lecturer in the Department of Petroleum Engineering at Satbayev University. In June 2019, she completed the two-degree master's program at The Polytechnic University of Valencia & Satbayev University with a degree in Project Management. Since September 2019, she began training in the doctoral program in the specialty "Project Management" at Satbayev University.
Education
2014-2015 g. Heriot-Watt University, Institute of Petroleum Engineering, Dnevnoe Velikobrit ani, Edinburgh, EH14 4AS MSc (Master of Science) in Reservoir Evaluation and Management -
"Oil and oil control tank"
2018-2019 gg The Polytechnic University of Valencia & Satbayev University Valencia, SpainAlmaty / RK, Master's Degree in Project Management
2009-2013 Kazakh-British Technical University, Faculty of Energy and Petroleum Industry, Bachelor of Engineering and Technology in specific areas
«Oil refinery»
2019g. Satbayev University PhD on specialization "Project Management"
Scientific projects
Scientific interests: Reservoir assessment and management; Quality and Risk management in oil and gas projects; Reservoir geomechanics.
Current projects: Project management and attitude towards risk - an analysis of the Kazakhstani oil and gas sector.
Development of a methodology for creating tools for automatic calculation and analysis of petrophysical data
Publications
А.К. Касенов, В.И. Спирин, М.С. Молдабеков, А.З. Файзулин Анализ современной технологии и техники освоения и ремонтно-восстановительных работ геотехнологических скважин и пути их совершенствования, УДК 622.24, Журнал Национальной академии наук Республики Казахстан, 2018. Scopus
Д.Д.Абильдабекова, Д.Р. Коргасбеков Анализ степени риска при проходке скважины Сборник научных трудов международной научно-практической конференции "Геологоразведочное и нефтегазовое дело в XXI веке: технологии, наука, образование". Алматы, Ноябрь 2016
A.P. Ivakhnenko Risk Analysis & Economic Geology EarthDoc - EAGE's online searchable geoscience database Publisher: European Association of Geoscientists & Engineers
Source: Conference Proceedings, 5th EAGE St.Petersburg International Conference and Exhibition on Geosciences - Making the Most of the Earths Resources, Apr 2012, cp-283-00169
ISBN: 978-90-73834-23-1
DOI: https://doi.org/10.3997/2214-4609.20143759
A.B. Idirissov Petroleum play risk analysis of Ustyurt basin Сборник научных трудов международной научно-практической конференции "Геологоразведочное и нефтегазовое дело в XXI веке: технологии, наука, образование". Алматы, Ноябрь 2016
A.P. Ivakhnenko, M.N. Makhatova, A. Kalbekov, A. Moldagereyeva Coalbed methane reservoir characterization using magnetic susceptibility Научный электронный журнал EGU - European Geosciences Union - Европейский союз наук о Земле; Geophysical Research Abstracts Vol. 18, EGU2016-16409, EGU General Assembly, held 17-22 April, 2016 in Vienna Austria, p.16409, 04/2016 © Author(s) 2016. CC Attribution 3.0 License.