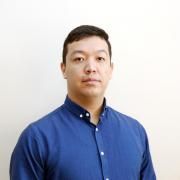 Abay Alikhanovich Zhussupbekov
Master of humanities
Lecturer
School of General Education after A. Mashani
English Language
Email: a.zhussupbekov@satbayev.111
Professional biography
Lecturer of the Department of English, Satbayev University since September 2019. Co-author of 2 textbooks and more than 8 publications in the field of educational management and leadership, teaching methods of the English language, school education. Winner of the presidential scholarship "Bolashak"; completed language training at Reading University, UK from 2013 to 2014. Awarded a master's degree from Southampton University, UK in 2016.
Began his teaching career in 2012 as an English teacher at secondary school No. 87 named after Kazhymukan. After completing his studies at the postgraduate level, in 2015 he began working as a teacher in the department of "Methods of Foreign Language Education", Abylai khan University of international relations and world languages. From 2017 to 2018, he worked concurrently as a manager of the Center for Foreign Language Training at Abylai khan University of international relations and world languages.
Scientific projects
Leadership styles, decision making in educational organizations, research in education, the role of digital technologies in teaching foreign languages, inclusive education
Publications
1. Zhussupbekov A.A. (2016) Can MOOCs replace traditional educational institutions? Republican scientific-practical conference "Scientific and methodological foundations of professional training of a foreign language teacher" dedicated to the 90th anniversary of Professor P.G. Kozlov, pp. 77-82, ISBN 978-601-270-235-4.
2. Zhussupbekov A.A. (2016) MOOCs and their implications for traditional Higher Education Institutions. Eurasian Higher Education Leader's Forum 2016 'Higher Education and Modernization of the Economy: Innovative and Entrepreneurial Universities', pp. 29-33, ISBN 978-601-80467-4-2.
3. Zhussupbekov A.A. & Yerzhanova A.E., "The role self-study plays in language learning" IV Republican Scientific and Practical Conference of Young Scientists "Young Scientists: Dialogue of Science and Education" dedicated to the 75th anniversary of Abylai Khan KazUMEi and ME, Abylai Khan KazUME and ME, 02/10/2017
4. Zhussupbekov A.A. (2017) "Accountability and decision-making in schools" IV International Scientific and Practical Conference "Modern Scientific Achievements and Their Practical Application", pp. 1-23, Dubai, United Arab Emirates.
Education
1. 2008-2012 Kazakh Abylai khan University of international relations and world languages, Almaty, Kazakhstan
2. 2014 Sept. – 2016 Mar. Southampton University, Southampton, Great Britain