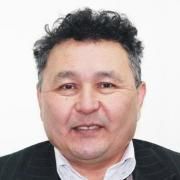 Akylzhan Doskhozhaev
Candidate of geological and mineralogical sciences
Assistant professor
Assistant-professor
T. Basenov Institute of Architecture and Construction
Engineering systems and networks
Email: a.doskhozhayev@satbayev.111
Professional biography
Doskhozhaev A.S. began his professional career in 1984 at the Institute of Hydrogeology and Hydrophysics of the Academy of Sciences of the Kazakh SSR as an engineer, then a senior researcher, and later worked as head of the laboratory until 1991. And from 1991 to 2019 he worked as a senior teacher, associate professor, associate professor of the Department of Hydrogeology and Engineering Geology at KazNRTU named after Satpayev K.I. From May 2019 to the present, he has been working as an assistant professor at the Department of Engineering Systems and Networks of Satbayev University.
Scientific projects
Water supply of cities and towns, mining technologies: gold, diamonds and other precious metals, as well as building sand from sediments of mountain rivers of the northern slopes of Zailiysky Alatau. Under the guidance of Professor Doskhozhaev A.S. 2 candidate, 1 doctoral, 3 master's theses are defended.
He worked as a contractor in 2 research projects on technological uranium mining due to leaching at the Institute of Hydrogeology and Geoecology named after U.M. Akhmedsafina of the Ministry of Education and Science of the Republic of Kazakhstan (leader Makhmutov T.T.)
Publications
1. Matzhanov, O., Auelhan, E., Doskhozhaev, A., Kudaiberdi, Zh., Kim, D., Kuzevanov, K. Modeling of hydro-geological conditions of the golodnostepsky underground water field (Kazakhstan) using modeling in the environment of the groundwater modeling system software complex. Engineering and Mining Geophysics 2018 - 14th Conference and Exhibition2018.
Education
Syllabuses
Curriculum vitae