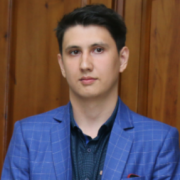 Alibek Baigarinov
Master of science in economics
Lecturer
Institute of Cybernetics and Information Technology
Computer Science and Applied Mathematics
Email: a.baigarinov@satbayev.111
Professional biography
Basharinov A. M. was born 18.10.1993 year in Semey city, East Kazakhstan region. Since 2016, he has been working at Satbayev University as a lecturer at the Department of Software engineering. Conducts lectures, laboratory and practical classes on the subjects "Algorithmization and programming basics", "Databases".
Scientific projects
Data Science
Publications
1) Машиналық оқыту әдісін пайдалана отырып, дыбысты тану жүйесін әзірлеу – Қазақстан Жоғарғы Мектебі, 2019 г. –С138-144//ISBN 1560-1749 – 5стр.
2) Проектирование и разработка системы распознавания «казахских кюйев» с использованием метода машинного обучения – Вестник КазНИТУ, 2019г. – С.253-206 – 6 стр.
Education
Bachelor's degree 2011-2015 years - Kazakh-British technical University, Information systems
Master's degree 2015-2017years- M. S. Narikbayev Kazakh humanitarian law University, Economics
Syllabuses