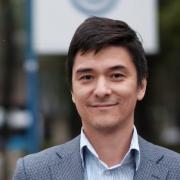 Alisher Aldashev
Doctor of Economic Sciences
Professor
Professor
E. Turkebayev Project Management Institute
Scientific and Educational Center of Mathematical Economics
Email: a.aldashev@satbayev.111
Professional biography
Alisher Aldashev is an economist with main research interests in development economics and labor economics. He has more than 10 years of teaching experience. A. Aldashev received his PhD at University of Regensburg (Germany) in 2007. He authored or co-authored 7 publications in renowned peer-reviewed journals. Previously worked at the Center of European Economic Research (Mannheim, Germany) and University of Regensburg. He worked on projects for the German Federal Ministry of Labor and Social Protection, German Ministry of Finance, Volkswagen Foundation, Kazakh Telecom etc.
Publications
1) Bilingualism and Economic Performance, in The Economics of Language Policy, B.-A. Wickström and M. Gazzola (eds.), MIT Press, Cambridge, 2016 (jointly with A. Danzer)
2) Convergence Across Regions in Kazakhstan, in Geographical Labor Market Imbalances, C. Mussida and F. Pastore (eds.), Springer-Verlag, Berlin, Heidelberg, 2015
3) Economic and spatial determinants of interregional migration in Kazakhstan, Economic Systems 38(3), pp. 379-396 (jointly with B. Dietz), 2014
4) Short-term training programs for immigrants in the German welfare systems: do effects differ from natives and why? IZA Journal of Migration 2(24) (jointly with S. L. Thomsen and T. Walter), 2013
5) Occupational and locational substitution: Measuring the effect of occupational and regional mobility, LABOUR: Review of Labour Economics and Industrial Relations 26(1), pp. 108-123, 2012
6) The Immigrant Wage Gap in Germany, The Journal of Economics and Statistics (Jahrbücher für Nationalökonomie und Statistik) 232(5), pp. 490-517 (jointly with J. Gernandt and S. L. Thomsen), 2012
7) Spatial Search and Commuting with Asymmetric Changes of the Wage Distribution, in The Labour Market Impact of the EU Enlargement. A New Regional Geography of Europe?, F. Caroleo and F. Pastore (eds.), Physica Verlag, Heidelberg, 2010
8) Language usage, participation, employment and earnings: Evidence for foreigners in West Germany with multiple sources of selection, Labour Economics 16(3), pp. 330-341 (jointly with J. Gernandt and S. L. Thomsen), 2009
9) Theory of Job Search. Unemployment-participation trade-off and spatial search with asymmetric changes of the wage distribution, VDM Verlag Dr. Müller, Saarbrücken, 2008
10) Wage Inequality, Reservation Wages and Labor Market Participation -Testing the Implications of a Search-Theoretical Model with Regional Data, International Regional Science Review 30, pp. 120-151 (jointly with J. Möller), 2007
11) Interregional Differences in Labor Market Participation, Jahrbuch fur Regionalwissenschaft (Review of Regional Research) 26(1), pp. 25-50 (jointly with J. Möller), 2006.
Education
2002-2007 – University of Regensburg, PhD; major – economics.
2000-2002 – KIMEP University, graduate program; major – economics.
Syllabi