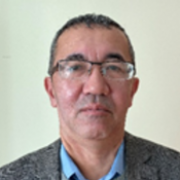 Askarov Erlan Seitkasymovich
Candidate of technical sciences
Assistant professor
Professor
A. Burkitbaev Institute of Industrial Automation and Digitalization
Email: y.askarov@satbayev.111
Professional biography
Professor, candidate of technical sciences, docent, Ph.D.
Mechanical engineer, lecturer with more than 38 years of experience, inventor. The participant of a number of scientific projects devoted to the development of the design of new machines for the industry of Kazakhstan. Author of numerous scientific publications and 19 textbooks. He has 56 patents for invention. He was on internship in Japan and South Korea. Awarded by 3 thank-you notes and diploma of the Rector of Satbayev University.
from 11/1980 to 8/1998 - Assistant, senior lecturer, associate professor of KazPTI (KazNTU)
from 8/1998 to 8/2003 - Head of Design Bureau of Kazakstan Temir Zhola, Department of Science and New Technologies, Design and Experimental Center of Almaty
from 8/2003 till present - Associate professor, professor of Satbayev University
Scientific projects
Participation in scientific projects (for 3 years): from 2012-2014 the head of the scientific project on the grant of the Committee of Science No. 2003 "Development, manufacture and testing of the original design of the cam-screw mechanical press," the executor of the project on the grant of the Committee of Science 2013-2015 "Development of a new design of the machine with a powerful thermodynamic working tool for slotted workings during production of granite blocks"
Publications
1. Centrifugal-gyrational mill with no counterweight, Russian Engineering Research № 3, . 2013 (США), https://link.springer.com/article/10.3103/S1068798X13030040
2. Elementary Cycle in Innovation Management, Industry Kazakhstan, № 5, 2013
3. What is innovative management and the role of scientific work in it, International Forum "science and Education in 21 Century" KAZNTU. 2014 t.3
4. Wind power plant with fixed composite vertical axis, Industry Kazakhstan, No. 6.2014
5. In the power of the information stream, Thought, No. 2, 2015, http://kazgazeta.kz/?p=25885
6. New cam-screw mechanical press, Messenger Mechanical engineering, M No. 2, 2015, https://elibrary.ru/item.asp?id=24903294
Education
Lenin Kazakh Polytechnic Institute
Mechanical Engineering Technology, Metal Cutting Tools and Machine Tools
Syllabuses