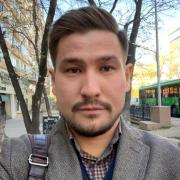 Baiboz Akniyet
Ph.D.
Lecturer
Geology and Oil-gas Business Institute named after K. Turyssov
Department of "Geological survey, search and exploration of mineral deposits"
Email: baiboztegi@gmail.222
Professional biography
Scientific internship in a project to create highly efficient rock cutting tools for well drilling in Dnipro, Ukraine.
Industrial training in LLP "SP RosBurMash", South Kazakhstan, RK.
Lecturer at the Department of Geological Survey, Prospecting and Exploration of Mineral Deposits.
Education
Kazakh-British Technical University, bachelor degree, 2009-2013;
Kazakh-British Technical University, Master's degree, 2013-2015;
KazNRTU Satbayev University, doctoral studies, 2015-2019.
Scientific projects
Research group member in projects:
- "Development of a highly efficient rock cutting tool for drilling wells equipped with synthetic diamonds and composite diamond cutters with high strength and heat resistance";
- "Development, creation and implementation of high-performance stable blade rock cutting tools for drilling wells for various purposes."
Co-author of patents N33077 "Picobur type drill bit" and N32712 "New type drill bit".
Publications
1. Theoretical justification of automatic device for drilling mud funnel viscosity measurement. Scopus database. 2017.
2. Updating the theoretic model of rock destruction in the course of drilling. Web of Science database. 2018.
3. Classification of methods for creating an axial load on a rock cutting tool when drilling wells. VAK. 2016.
4. The use of computer user programs for the analysis of theoretical models of rock destruction during drilling. VAK. 2018.