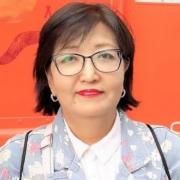 Bekbotaeva Alma Anarbekovna
Doctor of phd
Associate Professor
Head of Department
K. Turysov Institute of Geology, Oil and Mining
Geological survey, prospecting and exploration of mineral deposits
Email: a.bekbotayeva@satbayev.111
Professional biography
Head of Department since 2016 Geological engineer with more than 30 years of experience in various managerial positions, has been teaching for over 20 years. He is a member of the Scientific and Technical Council of KazNITU, a member of the dissertation council for the defense of doctoral dissertations, a developer of educational programs and professional standards in the specialty "Geology and exploration of mineral deposits", a reviewer of the Polish magazine "Geograhy", a corresponding member of the Academy of Mineral Resources of the Republic of Kazakhstan, is a member editorial board of the Mining Journal of Kazakhstan. For her contribution to the development of the university, she was awarded a letter of thanks from the rector of Satbayev University (2018), the Jubilee Medal "85 years of KazNITU named after K.I. Satpayev" (2019). In 2019, she was awarded the badge of the Ministry of Industry and Infrastructure Development of the Republic of Kazakhstan "Excellence in Subsoil Exploration."
Member of the Professional Association of Independent Subsoil Experts MPONEN
Scientific projects
Head of a hozdogovorny subject:
"Study of mineralogical and petrographic composition of containing rocks and ores of Kok-Tas deposit" (2019).
Leading researcher:
"Scientific support for the geological study of mineral resources and geological and assessment work to replenish the resources of mineral raw materials" (2015-2017), "A study of the material composition and properties of the tailings of the Zhezkazgan concentration plants in order to assess their prospects for expanding the mineral resource base" (2015-2017),
PTF "Complex geological study of subsoil for development of resource base and development of new sources of ore raw materials of Kazakhstan" (2018-2020);
State-of-the-art topic with "KASE Minerals Aktogay" LLP "Influence of fault tectonics within Aktogai field on change of mineral composition of copper-porphyry gun" (2018-2019);
"Development of technology for intensification of denitration and leaching processes in the" Central "section of the" Mynkuduk "field (2019-2020)
Publications
Education
From 1981 to 1986 Kazakh Polytechnic Institute, Geological Exploration Faculty, day. In specialty "Geological survey, search and exploration of mineral deposits," mining engineer-geologist.
From 2010 to 2012 Kazakh National Technical University named after K.I.Satpayev, master 's degree, day. He is 6М070600 in Geology and Exploration of Mineral Deposits, Master of Technology Engineering.
From 2012 to 2015 Kazakh National Research Technical University named after K.I.Satpayev, PhD, day. He majored 6D070600 Geology and Exploration of Mineral Deposits, PhD.
Syllabuses