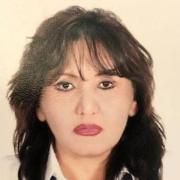 Bekenova Raikhan
Candidate of Pedagogical Sciences
Assistant professor
Assistant-professor
School of General Education named after Al-Mashani
Email: r.bekenova@satbayev.111
Professional biography
1994 – 2004 – Senior Lecturer of the Department of the Russian Language as a Foreign Language of S. Asfendiyarov Kazakh National Medical University
2004-2020- Assistant-Professor of the Languages Department, Basic Faculty, KBTU
Bekenova R.B. has been teaching at the Department of Kazakh and Russian Languages of Satbayev University since 2016. The main teaching courses are "The Course of The Russian Language" and the elective course "The Foundation of Eloquence Training". Her experience in teaching at the higher educational institutions is 27 years. She is the author of numerous academic and methodological scientific papers including the publications in neighboring countries and beyond. Bekenova R.B. has certificates on career enhancement.
Bekenova R.B. is a teacher-innovator with a profound individual style of teaching, pedagogical charisma, creative thinking and she is respected by students and has a decisive authority among them. She is an initiator and an organizer of a famous authorial BRB-show that is performed at the University every year.
She is an organizer of workshops and trainings that demonstrate new perspectives of pedagogy, the ways of coping with conservatism and day-to-day activities in the educational process, innovative forms and methods of knowledge transmission aimed at positive changes in education.
She is the winner of XII International Pushkin`s Competition for the teachers of the Russian Language from 20 countries (Moscow, 2012).
Scientific projects
1) Valency properties of verbal names of a character. European Science of ХХI century. – Warsaw, Poland, 2013.
2) Proficiency of a contemporary presentation. X International scientific and practical conference "Trends of modern science", May 30 – June 7, 2014 – Sheffield, UK.
3) Syntactic features of substantive derivatives in the contemporary Russian language. – Journal "Interaktivnaya Nauka". – Cheboksary, 31.05.2017.
4) « The connection of paradigmatic and syntagmatic semantic aspects of a derivative word» in the International Journal «Nauka i Mir» (# 6 (58), June 2018) Impact-Factor of the Journal is
0.325 (Global Impact Factor, Australia)