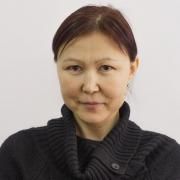 Bekisheva Raikhan Мukhitovna
Lecturer
School of General Education after A. Mashani
English Language
Email: r.bekisheva@satbayev.111
Professional biography
Lecturer of the chair «The English language», Master of Arts
Qualification – teacher of the German and English languages, work experience - 18 years.
The pedagogical and professional career has been started in 1997 as a teacher assistant in the department of languages at the Almaty Tekhnological University. From 2002 to 2006 teacher of the Kazakhstan Medical University. In the period of 2006 - 2008 worked as a teacher of Kazakh National Medical University. From 2008 to 2010 worked as a senior teacher of the English language of Almaty branch of Saint Petersburg University of Humanities. From 2011 to September 2019 was a senior teacher of German and English languages at the Kazakh National University named after Al-Farabi. Since January 2020 works at Satbayev university.
Publications
1. Goals and objectives of teaching linguistic subjects by a competent approach. Материалы III Всероссийского культурологического форума «Никоновские чтения». – Чебоксары: Чувашский государственный педагогический университет им. И.Я. Яковлева, 2018. – 248-257.
2. Linguistic personality as a subject of intercultural communication». Материалы международной научной - методической конференции «Актуальные вопросы филологии и методики преподавания иностранных языков: теория и методика», Алматы, 2018
3. Anthropocentrism as a new direction of modern linguistic paradigm. Вестник КазНУ им. Аль-Фараби. Серия филологическая. №6 (158). Алматы «Қазақ университеті»,2017
4. Развитие теории языковой личности. Материалы XI Международной научно-исследовательской конференции «Наука без границ − 2015». Том 15. Серия «Филологические науки». Шеффилд, Англия, 2015
5. Язык и культура как компоненты языковой личности. Вестник КазНПУ им. Абая. Серия «Филологические науки». №4 (54), Алматы, 2015
Education
1. 1992-1997-Kazakh State University of World Languages, qualification – teacher of German and English languages
2. 2014-2016-Kazakh National Pedagogical University named after Abay, Faculty of Philology, Department of Master Studies, qualification: 6М012200 – «The Russian language and literature in schools with non-Russian language of teaching»