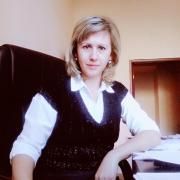 Irina A Portnyagina
Master of Technical Sciences
Deputy Director
Institute of Chemical and Biological Technologies
Email: i.portnyagina@satbayev.111
Professional biography
From 2004 to 2012 She worked at the JSC "Kazakhstan-British Technical University".
From 2012 to 2017, she worked at various positions in a higher school at JSC "National Research Center" Orleu "" Republican Institute for Advanced Studies of Leading and Scientific-Pedagogical Workers of the Education System of the Republic of Kazakhstan ".
Since July 2017, he has been Deputy Director of the Institute of Chemical and Biological Technologies for Academic Affairs at Satbayev University
Scientific projects
-----
Publications
-----
Education
2000 - 2004
Kazakh National University named after al-Farabi, Faculty: "Mechanics and Mathematics"
Specialty: "Computer Science"
2015 - 2018
Russian University of Economics named after G.V. Plekhanova. Faculty: "Information Technology"
Master in Specialty: "Applied Informatics"