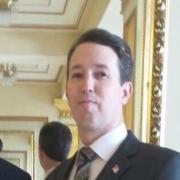 Jeffrey Raymond Stier
Assistant
Institute of Project Management
Department of Foreign Languages
Email: j.stier@satbayev.111
Professional biography
2021-present - Assistant of the Department of Foreign Languages at Satbayev University.
2021– participated in 72-hour advanced professional courses on the following topics: Integration of teaching, curricular and evaluation in distance education; A critical perspective on the contemporary use of standards in assessment; Extracurricular activities in the EFL classroom.
2021 – took a part in the online internship «Pedagogical education of the 21st century: new challenges and solutions».
2020 – participated in the Coursera course "Get Interactive: Practical Teaching with Technology Course" held by the University of London in the UK.
2019 – worked abroad in the specialty «State Administration and Politics».
2018-2019 – Teacher of ESL / EFL at Turan University, Satbayev University, Tamos education, at the educational center Next Level, StudyRoom, physics and mathematics school Danashym and Keleshek, Almaty, Kazakhstan.
Education
1990-1995 University of Maryland at College Park. Bachelor of Arts in Government and Politics.
2012 TEFL/TESOL Certificate from International TEFL academy & INTESOL Worldwide in Chicago, Illinois.
Publications
«Digital info-educational environment in EFL for teaching students of non-linguistic universities», Materials of the international scientific and practical conference with a part-time participation format "Innovative solutions to the socioeconomic and technological problems of modern society" pp.71, Astrakhan 2021.