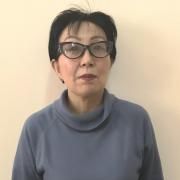 Kazybayeva Saule
Master of Technical Sciences
Lecturer
K. Turysov Institute of Geology, Oil and Mining
Email: s.kazybayeva@satbayev.111
Professional biography
The University has more than 20 years of research and teaching experience. She started her career as a research trainee at the research Institute until 2004. Since 2004, she has been a teacher of the Department of state geological engineering, a Junior researcher at the research Institute "Geodynamics of sedimentary basins" . Since 2008-2010 senior lecturer of the Department of DOGF, Deputy Director Of the Institute of oil and gas of KazNTU named after K. I. Satbayev. Currently, she is a lecturer at the Department of Petroleum Engineering.
Publications
She has more than 25 scientific and methodological publications (1 patent, 1 Scopus article, India)
Education
1980-1985, KazPTI named after V.I.Lenin, specialty "Geology and exploration of oil and gas fields" - Mining engineer-geologist;
2011-2013 (master's degree), Caspian public University - "Geology, exploration of solid minerals".