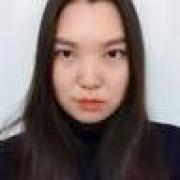 Kobzhanova Ainura Erbolkyzy
Master of humanities
Assistant
Institute of Project Management
Department of Foreign Languages
Email: a.kobzhanova@satbayev.111
Professional biography
2020-present – Assistant of the Departmentof Foreign Languages at Satbayev University,
May 2020 – Graduation from KSTU named after U.Sultangazin.
2019-2020 – a participant of academic mobility in University of Lodz (Lodz, Poland).
June 2022 – Master of philological sciences.
Education
2016-2020 - Kostanay State Pedagogical Univerity named after U.Sultangazin Specialty: Foreign languages: two foreign languages.
2020-2022 - Al-Farabi University. Foreign philology (western languages)
Publications
1. Kobzhanova A.E., Berkimbayeva S.K. «Modern theories of linguistic: linguoecology»,2021, The Process of modernization and development of kazakh translation studies and ccomparative studies in the period of indeprendence, Al-Farabi Kazakh National University, p. 154-157
2. Kobzhanova A.E. "Current problems of interrelation of language, consciousness and modern technologies",2022, Proceeding of VIII Republicanscientific and practical conference for young scientists and specialists "Industry 4.0: Dialogue of Generationsand New Guidelines for Young Scientists ", p. 276-278