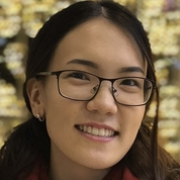 Marzhan Dauletiyarova
Assistant
Institute of Cybernetics and Information Technology
Computer Science and Applied Mathematics
Email: m.dauletiyarova@satbayev.111
Professional biography
Dauletyarov M. was born 06.09.1995 year in Kyzylorda region.
In 2016, she graduated from KBTU with a degree in "5B070400-Computer engineering and software". Since 2016, he has been working at Satbayev University as an assistant at the Department of Software engineering. In 2018, she entered the master's program in the specialty "6M070300 – Informatics", currently studying in the 2nd year.
Conducts laboratory and practical classes in the disciplines of "Information and communication technologies", "Computer science", "Object-oriented programming", "Algorithmization and programming basics", and also conducted remote classes in the discipline "Web programming".
Scientific projects
School education research on Android programming, machine learning, data analysis
Education
Bachelor 2012-2016 years - Kazakh-British Technical University, Faculty of Information Technology, CSSE
Syllabuses