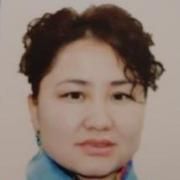 Mustapayeva Sezim Nurahmetovna
Doctor of phd
Associate Professor
Associate Professor
K. Turysov Institute of Geology, Oil and Mining
Email: s.mustapayeva@satbayev.111
Professional biography
Associate Professor, PhD
Geologist engineer, teacher with 8 years of experience. He conducts research in the field of geology of Kazakhstan, author of a number of scientific works. Noted by the Letter of Gratitude of the Committee on Geology and Subsoil Use of the Ministry of Investment and Development of the Republic of Kazakhstan.
Scientific projects
Scientific Head of the Project: No. 757.МОН.ГФ.15.ПИПР.4 "Lithological and paleontological research of ranecarboxylic deposits of the Greater Karatau Range and their biostratigraphic dissection in order to solve problems of ecology and rational environmental management" 2015-2017. 26 points.
Project executor: № OPUS-6 № 239231 pt. "Carboniferous mud mounds: recurrent" carbonate factories "at geosphere-biosphere coupling" (2014-2016) funded by Polish Academy of Sciences, Adam Mitskiewicz University (Poznan, Poland)
Scientific head of the project: Study of the main chronostragraphic boundaries in the sections of the lower carbon of West Kazakhstan in order to establish international standards 2018-202
Publications
Education
From 2001 to 2006 Kazakh National Technical University named after K.I.Satpayev, Geological Survey, Prospecting and Exploration of Mineral Deposits, Geologist, Day
From 2009 to 2011. Kazakh national technical university of K.I. Satpayev, magistracy, day 6M070600 "Geology and investigation of mineral deposits"
From 2011 to 2014. Kazakh national technical university of K.I. Satpayev, doctoral studies, day 6D070600 "Geology and investigation of mineral deposits", doctors of philosophy
Syllabuses
Curriculum vitae