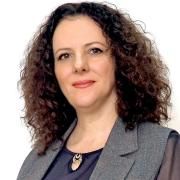 Nataliya P Malakhova
Candidate of biological sciences
Associate Professor
School of Chemical and Biological Technologies
Email: n.malakhova@satbayev.111
Professional biography
Head of the Laboratory of Plant Bioengineering, Institute of Molecular Biology and Biochemistry M.A. Aitkhozhina. Scientific supervisor of a number of fundamental and applied research projects in the field of biotechnology, genetic engineering, molecular and cellular biology. The author of 53 scientific publications in international and domestic publications.
Scientific projects
GF AR05136045 project "Obtaining new wheat and potato lines based on the use of a set of innovative approaches of genetic engineering and cell technologies" 2018-2020.
Publications
1. Yuriy Skiba, Igor Mokrousov, Dilyara Nabirova, Anna Vyazovaya, Elina Maltseva, Natalya Malakhova, Gulnara Ismagulova, Ilva Pole, Renate Ranka, Zhanar Sapiyeva, Shakhimurat Ismailov, and Daphne Moffett "
Mycobacterium tuberculosis RD-Rio Strain in Kazakhstan
". Emerging Infection Diseases. 2019, Marh; 25(3): 604–606.
2. I. Mokrousov, E.Chernyaeva, A.Vyazovaya, Y. Skiba, N. Solovieva, V. Valcheva, K. Levina, N. Malakhova,W. Jiao, L.L.Gomes,P.N. Suffys, M.Kütt, N. Aitkhozhina, A-Dong Shen, O.Narvskaya,V.Zhuravlev "Rapid Assay for Detection of the Epidemiologically Important Central Asian/Russian Strain of the Mycobacterium tuberculosis Beijing Genotype". Journal of Clinical Microbiology / February 2018. Volume 56. Issue 2. //
3. Н. П. Малахова, Л. Д. Галиева, А. Хасейн, А. А. Калиева, Ю. А. Скиба "
Апробация ускоренного биотехнологического производства элитного семенного картофеля для обеспечения семеноводства в Республике Казахстан
". Известия НАН РК 2018, №1. С. 128-134
Education
1990-1995
Kazakh State National University named after Al-Farabi, Faculty of Biology, Specialty - Biology, Qualification - Biologist. Teacher of biology and chemistry.
2009
Candidate of biological sciences, specialty 03.00.03 - molecular biology
Syllabuses