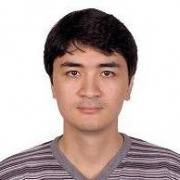 Rassul Yunussov
Candidate of technical sciences
Associate Professor
Associate Professor
Institute of Cybernetics and Information Technology
Computer Science and Applied Mathematics
Email: r.yunussov@satbayev.111
Professional biography
2003-2004 – National center of Radio electronics and communication - GIS department. Software engineer
November 2004- December 2004г – «ALSI – ASIA- PAGE» - Software Implementation Department. Software engineer
2004-2010 – JSC «KazGeoCosmos» - Geo Modeling Department, Deputy Director
2010-2012 – LLP Mobisoft Enterprise - Technical Director
2012-2014 LLP Alem Research - Business Development Director
Since 2014 – present LLP QBI - Chief Executive Officer, Kazakh National Technical University
Scientific projects
Distributed computing, Machine learning
Publications
1) Юнусов Р., Data Warehouse Design Problems In Statistical Analysis Tasks, Вестник СДУ, 3-4 (30-31), SDU Library, —2015. – C. 152-155
2) Amirgaliyev Y, Yunussov R., Patten recognition systems in the problems of automatic person identification using the passport data//Computer Modelling & New Technologies, —2015. —№19(2B). –C.27-30
3) Амиргалиев Е.Н., Юнусов Р., Оптимизация процесса учета посещаемости студентами занятий на основе беспроводной сенсорной сети//Труды 2 международной научно-практической конференции «Информационные и телекоммуникационные технологии: Образование, Наука, Практика», Алматы, Казахстан, —2015
4) Amirgaliyev Y.N, Yunussov R, Attendance control system on the basis of wireless sensor network//International Journal Of Engineering Sciences & Research technology, ISSN:2277-9655, — 2016, —Volume 5, —Issue 3,—P.177-183
5) Юнусов Р., Бейсембекова Р.Н., Құрманғажиев А. Основные решение бизнес интеграции с применением современных технологии IBM Websphere. Труды «Роль и место молодых ученых в реализации новой экономической политики Казахстана» Международных Сатпаевских чтений. – Алматы: КазНТУ, 2015. – Т. 4. – С. 688-694.
6) Yedilkhan Amirgaliyev, Rassul Yunussov, Orken Mamyrbayev, Optimization of people evacuation plans on the basis of wireless sensor networks // Open Engineering. Volume 6, Issue 1, ISSN (Online) 2391-5439, DOI: 10.1515/eng-2016-0026, September 2016.
7) Юнусов Р, Интеллектуальная система энергопотребления, Международная научно-практическая конференция "Инновации в образовании и науке" посвященная 25-летию Независимости Республики Казахстан и 20-летию университета имени Сулеймана Демиреля Volume I, October 2016.
8) Юнусов Р., Попов К. Разработка приложения АРМ "Посетитель" с использованием ASP.NETCore, Международная научно-практическая конференция «Математические методы и информационные технологии макроэкономического анализа и экономической политики», посвященная 80-летнему юбилею академика НАН РК Абдыкаппара Ашимовича Ашимова, Март 2017.
9) Yedilkhan Amirgaliyev, Maksat Kalimoldayev, Rassul Yunussov, Accuracy Problem in Practical Implementation of Indoor Navigation on The Basis of Radio Signals, OPTIMA-2017.
10) A. Dautkulova, R. Yunussov, Methods for similarity assessment of children and parents by usage of face images, The 16-th international scientific conference - Information Technologies and Management 2018, April 26-27, ISMA University, Riga, Latvia.
11) Kunelbayev M., Merembayev T., Yunussov R., Irzhanova A., Yedilchan D., Theoretical assumptions for saving energy of electrical heating water in the solar collector battery, The 6-th international conference on nanomaterials and advanced energy storage systems, Nazarbayev University 2018.
12) Merembayev T., Yunussov R., Amirgaliyev Y., Machine learning algorithms for stratigraphy classification on uranium deposits, XIIIth International Symposium Intelligent Systems, INTELS18, 22-24 October 2018 St. Petersburg, Russia.
13) Амиргалиев Е.Н., Ерзин А.И., Юнусов и др., Модели и методы оптимизации беспроводных сенсорно сетей, Монография ISBN 978-601-332-008-3, ИИВТ, 2018.
14) Amirgaliyev Y., Yunussov R., Merembayev T., Machine Learning Algorithms for classification Geology data from well logging, 14th international conference on Electronics, Computer and Computation, ICECCO 2018, SDU.
Education
2000-2005 - Kazakh National Technical University, «Software and hardware engineering»
2007-2010 - Informatics problems Institute of Ministry of Education and Science Republic of Kazakhstan, PhD – Thesis – Methods and Algorithms of Automatic Classification and Neural Networks In Digital Photogrammetry
Syllabuses