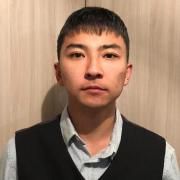 Sadykov Batyrkhan
Master of Technical Sciences
Senior Lecturer
Mining and Metallurgical Institute named after O.A. Baikonurov
Email: b.sadykov@satbayev.111
Professional biography
Master of Technical Sciences in Geodesy. He works in
the field of geodesy, surveying and geomechanics.
Readable disciplines of geodesy; geoinformatics; land
monitoring, the basics of digital photogrammetry, digital
maps and models. He has 4 years of scientific and
pedagogical activity at Satbayev University.
Education
2009-2013 050707 - "Mining", Bachelor, ZhB-B No. 0509727 2014 -2016 6M071100 - "Geodesy" Master's degree, ZhOOK-M No. 096438 2017 - to the present, doctoral student in the specialty 6D071100 - "Surveying"
Scientific projects
He is a junior researcher: Development of a forecast
system and geomonitoring methods for displacement of
a rock mass in hazardous areas of the earth's surface
during the development of mineral resources based on
innovative methods of GIS technology (No. 2019 /
АР05133929)
Publications
1. Энергетический критерий зонного районирования поверхности месторождения по степени опасности к обрушениям. Журнал известия вузов «геодезия и аэрофотосъемка». Номер: 9
Издательство: МИИГАиК, Москва. Год: 2018 С. 123-125. ISSN 0536-101X (print)
2. Влияние трещиноватости горных пород на геомеханические процессы. Вестник Национальной Академии Горных Наук –Вестник НАГН, г.Астана,2018 г. С.73-76. ISSN 2518-797.
3. Совершенствование энергетического критерия при зонировании земной поверхности по степени ослабленности . Вестник КазНИТУ №4, г.Алматы, 2018 г. С.32-38. ISSN: 1563 - 0234.