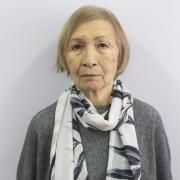 Utembayeva Kaldygul Abdashimovna
Senior-lecturer
School of General Education after A. Mashani
English Language
Email: k.utembayeva@satbayev.111
Professional biography
The first position after graduating from Almaty Pedagogical Institute of Foreign Languages was an English instructor in the public school from 1968 -1969, from 1971-1986 an English teacher/ head of the curricula and teaching methodology section at English language public school. From 1986 - 1989 was a part-time instructor in Almaty Power engineering institute doing the courses General English and English for specific purposes. 1989 - 1992 did the English courses for adult learners, from 1993 -1996 had a position of freelance interpreter in Kazakhstan Chamber of commerce and industry and European Consortium for Privatization.From 1994 - 2016 started working for Language Center at Kazakhstan Institute of Management, Economics and Strategic Research. The positions were an English instructor, Bachelor program coordinator, then a Language Center's Coordinator of Administration and Scheduling.
From 2016 - present a senior lecturer at Satbayev University.
Additional information
At Satbayev University English Language Department I am a team leader of the course General English 2,from 2017-2019 was a team leader of General English 1.
Publications
1.Utebayeva Z.,Utembayeva K.(2004). The use of credit technology in teaching languages.Proceedings of the Conference on Management system introduction for quality assurance policy in teaching languages, Al-Pharabi KNU 2004, pp.3-5.
2.Utebayeva Z., Utembayeva K.,Shegebayev M.( 2005). Higher Education in Kazakhstan, 2/2005,pp.12-15.
Education
1.1964-1968 -Pedagogical Institute of Foreign Languages ( at present University of World Languages), Almaty, English language faculty.
2.2006-2009- Kazakhstan Institute of Management, Economics and Strategic Research, The College of Social Sciences.
3. CEELT ( Cambridge exam English for language teachers)
Certificate ( Paper 1-B, Paper 2-B,Paper 3-B)