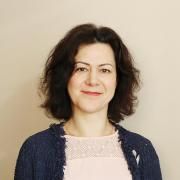 Viktoriya G Nigmatova
Candidate of biological sciences
Associate Professor
School of Chemical and Biological Technologies
Email: v.nigmatova@satbayev.111
Professional biography
to date
Assistant of Chief Executive Officer
Associate Professor, School of Chemical and Biological Technologies of Satbayev University
1995-2018
Leading researcher – Structural and Functional Genomics laboratory; senior researcher, researcher, junior researcher, technician of genome laboratory. Institute of Molecular Biology and Biochemistry M.A. Aitkhozhin.
2016
Comstech-FCC–ECOSF International Workshop Genomics and Genome Editing, Lahor, Pakistan
2010-2014
International School of Young Scientists in Molecular Genetics, Zvenigorod, Russia
Management of research project for genetics of multiple sclerosis among population of Kazakhstan;
Development of methodological guidance for diagnostics of susceptibility to breast cancer for healthcare institutions;
2005
Personal grant from MCBN-UNESCO, Internship at Genetics laboratory of Medical Faculty of Ruhr University, Bochum, (Germany);
2002-2003
Personal grant from DAAD (German Academic Exchange Service) for research of genetics of multiple sclerosis, in Ruhr University, Bochum, (Germany);
Over 30 publications in national and international magazines, inventor or co-inventor of 6 registered patents
Scientific projects
Scientific program «Structure-functional genome features in breast cancer for early diagnosis and prognosis». Scientific project «Molecular-genetic description of Kazakhs from South-Kasakhstan, Zhambil and Almaty areas on the basis of SNPs and microsatellites variability of Y-chromosome».
Publications
1.Айтхожина Н.А., Хансеитова А.К., Нигматова В.Г., Неупокоева А.С., Шарафутдинова Д.А., Аширбеков Е.Е., Фаворов А.В., Балмуханов Т.С. Ассоциации комбинаций аллелей в гене рецептора 2 роста фибробластов с раком молочной железы среди разных этнических групп // Генетика.- 2017.- Т.53.- №9.- С.1098-1105.
2.Нигматова В.Г., Литус И.А., Мукушкина Д.Д., Мирошник Т.Н., Хансеитова А.К., Омарбаева Н.А., Талаева Ш.Ж., Балмуханов Т.С., Айтхожина Н.А. Вариабельные полиморфные локусы rs1128503 и rs1045642 гена множественной лекарственной устойчивости (MDR1) среди пациентов с диагнозом рак молочной железы в этнических группах Казахстана // Доклады НАН РК. – 2016. – № 3. – С. 116-122.
3.Balmukhanov T.S., Khanseitova A.K., Nigmatova V.G., Neupokoeva A.S., Sharafutdinova D.A., Aitkhozhina N.A.. Lack of association between polymorphisms in rs2981582, rs2420946, rs17102287, rs1219648, rs2981578, and rs17542768 of FGFR2 gene with breast cancer in the population of Kazakhstan // Advances in Breast Cancer Research. – 2015. – № 4. – P. 109-113.
4.Айтхожина Н.А., Нигматова В.Г., Хансеитова А.К., Мендеш М.А., Аширбеков Е.Е., Балмуханов Т.С. Полиморфные маркеры некоторых генов, ассоциированных с рассеянным склерозом, среди населения республики Казахстан // Генетика, 2011, Jun;47(6):847-52.
5.Koch S, Goedde R, Nigmatova V, Epplen JT et al. Association of multiple sclerosis with ILT6 deficiency // Genes Immun. 2005 Aug;6(5):445-447.
6.Gödde R, Nigmatova V, Jagiello P, Sindern E, Haupts M, Schimrigk S, Epplen JT. Refining the results of a whole-genome screen based on 4666 microsatellite markers for defining predisposition factors for multiple sclerosis // Electrophoresis. 2004 Jul;25(14):2212-8.
Education
1990-1995
Kazakh State National University named after Al-Farabi, Faculty of Biology, Specialty – cytology and histology, Qualification – instructor in biology and chemistry.
2004
Candidate of biological sciences, specialty 03.00.03 - molecular biology
2015 – 2016
Ultracoaching program, Qualification - Professional Development diploma under 'Practical Psychology: Consulting an Coaching' program (International Institute of Integrative Development, Moscow)
Syllabuses