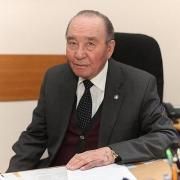 Yerengaip M Shaikhutdinov
Doctor of chemical sciences
Professor
Professor
School of Chemical and Biological Technologies
Email: y.shaikhutdinov@satbayev.111
Professional biography
Manager of Karaganda synthetic rubber plant (1956-1958); senior laboratory assistant of the MITHT complex laboratory (1958-1963); senior lecturer, head of the Department of the Kazakh state University (1963-1978); Vice-rector of academic Affairs of the Kazakh Polytechnic Institute (1989-1992); Rector of the Kazakh Polytechnic Institute (Kazakh national technical University) (07.1992-01.2000); Advisor to the rector (from 01.2000); Rector of the Kazakh-Russian Institute (2000-2002); Professor;
Public activity: Deputy of Almaty city maslikhat (1999-2003); Chairman of Almaty city Council of veterans (since 04.2003)
Academician of the National Academy of Sciences of Kazakhstan (1994), academician of the Academy of Sciences of higher school of the Republic of Kazakhstan and the International Academy of Sciences of higher school (1995); academician of the International engineering Academy and Engineering Academy of the Republic of Kazakhstan (1998).
More than 800 scientific works, textbooks and manuals have been published. Books "Simple vinyl esters in radical polymerization" (1985), "New about polymers and their application" (1988)," Physico-chemical and bio-cybernetic aspects of oncogenesis "(1991)," Vinyl Acetyl derivatives of piperidine and polymers based on them "(1991)," Fundamentals of chemistry of high-molecular compounds " (1995). (Index H= 6).
Under the leadership of Shaikhutdinova E.M. 10 doctoral, 38 candidate and 4 PhD dissertations are protected.
State and international awards and honorary titles: Order "Barys" (2012); order "Parasat" (2004); Order "Kurmet" (1998); Medal "for valiant labor"; Medal. I. Altynsarina; Honored worker of science of Kazakhstan; Order of the Russian Academy of Sciences (05.2008); letter of Thanks of the President of the Republic of Kazakhstan N. Nazarbayev (05.2008).
Scientific projects
Research projects: principal investigator, response performer and executor of more than 20 scientific projects.
"Macromolecular design and functioning of stimulus-sensitive polymers", contractual work. 2018-2020. ("Research Institute of new chemical technologies and materials").
Publications
1. Synthesis and evaluation of new aminophosphonic acid as scale inhibitor for industrial water applications// Journal of Water Process Engineering 22( 2018) 192-20,2 Голландия, ELSEVIER( Импакт-фактор 4,0)
2. New Thermo-Sensitive Hydrogel Based on Copolymer of 2-hydroxyethyl Acrylate and Ethyl Acrylate / Rachmetullayeva R.K., Eligbayeva G.Zh., Shaikhutdynov Ye.M., Mun G.A., Abutalip M., Azhikeyeva A.N. / Eurazian Chemico-Technological Journal. Volume 19, Issue 1. 2017. P. 47-55.
3. Investigation of polimeric-bitumen binder subject to climatic service conditions / Kenbeilova S.Zh., Shaikhutdinov E.M., Boiko G.I., Lyubchenko N.P.,Dergunov S.A. / International Journal of Chemical Sciences. (2013). Vol.-11; Issue 1. (IF=0,06);
4. Linear Copolymer of N-isopropylacrylamide and 2-hydroxyethylacrylate: Synthesis, Characterization and Monomer Reactivity Ratios / Nakan, U., Rahmetullaeva, R.K., Mun, G.A., Shaihutdinov, E.M., Yeligbaeva, G.Z., Negim, E.M. / Oriental Journal of Chemistry (2016) V. 32. Issue: 5. P. 2347-2354 (IF=0,3);
5. The Effect of Nanoparticle Silver on the Thermal Stability of N-isopropylacrylamide (NIPAAm) / Nakan U., Rakhmetullayeva R.K., Urkimbaeva P.I., Shaikhutdinov E.M., Mun G.A., Yeligbayeva G. Zh. Negim E.S.M. / World Applied Sciences Journal. 29 (3). (2014). P.359-364 (IF=0.234);
6. Modified polyolefins to prevent paraffin deposits on pipelines / Energy Production and Management in the 21st Century (WIT Press)./ G. S. Aitkaliyeva, G. I. Boyko, R. G. Sarmurzina, U. S. Karabalin, N.Lubchenko, E. M. Shaikhutdinov, E. F. Aliyev/ (2014) Volume: 190 P. 895-903. (IF=0,151);
7. Сравнительный анализ состава асфальтосмоло-парафиновых отложений и структуры парафинов месторождений Западного Казахстана и Южно-Тургайского прогиба/ Г.С. Айткалиева, Ш.А. Аскарова, Г.И. Бойко, Е.М. Шайхутдинов, Н.П. Любченко, Р.Г. Сармурзина, У.С. Карабалин / Нефтяное хозяйство (2014) (8). С.64-66. (IF=0,187);
8. Оценка состава асфальтосмолопарафиновых отложений и нефти месторождения Кумколь методами термического и ИК-спектроскопического анализов / Бойко, Г.С. Айткалиева, Е.М. Шайхутдинов, Н.П. Любченко, Т.П.Маймаков, , Р.Г. Сармурзина, К.М. Касымгалиев, У.С. Карабалин / Нефтяное хозяйство (2015) (6). С. 80-82 (IF=0,187);
9. Study on Radiation-Induced Grafting of Hydrophilic Monomers onto Chitosan / Dergunov S.A., Nam I.K., Shaikhutdinov E. M., Maimakov T.P., Nurkeeva Z.S., Mun G.A./ Reactive & Functional Polymers. 2008. Vol.110, Р.558-563 ((IF=3.07);
Education
1956 - Lomonosov Moscow state University of fine chemical technologies (since 2015 Russian University of technology)