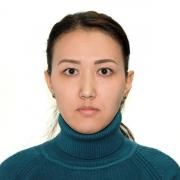 Yerzhanova Assel Yerbolatovna
Master of science
Lecturer
School of General Education after A. Mashani
English Language
Email: a.yerzhanova@satbayev.111
Professional biography
Lecturer at the Department of English at Satbayev University Institute of Basic Education al - Mashani with more than 8 years of experience.
The author of more than 10 publications in the field of English language teaching and foreign language teaching methods. Pedagogical and professional activities started in 2012 as a teacher of English at the Kazakh University of International Relations and World Languages ​​named after Ablai Khan. TKT certificate from the British Council, Almaty, 2012. In 2013, I completed an internship at the Valencia Polytechnic University (Valencia, Spain).
In 2015 and 2016 took a continuing education course "Training Courses for Trainers under the Program for Continuing Professional Education of Graduate Students of Higher Educational Institutions, Preparing Teachers, Developed on the Basis of Further Training Programs for Teachers of the Republic of Kazakhstan, at the Center for Pedagogical Excellence, Astana.
Scientific projects
Teaching English as a foreign language: traditional and innovative methods.
Education
2010-2012
Kazakh Ablai Khan University of International Relations and World Languages
Specialty: 6М011900 – Foreign language: two foreign languages
2006-2010
Kazakh Ablai Khan University of International Relations and World Languages
Specialty: 5В011900– Foreign language: two foreign languages
2010-2012
Academy of Economics and Law
Specialty: 5В050900 –Finance