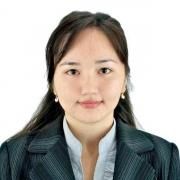 Professional biography
Since 2009 I began working as an English teacher at the B. Besbaev School until 2012. From September 2014 to February 2015, I worked as an English teacher at the Rose Kaplan English Language Learning Center in Taraz. From March 2015 to October 2016 I worked as an instructor at the International Academy of Mental Arithmetic UCMAS in Almaty.
From October 2016 to the present, I have been working as an assistant in the English language department at Satpayev University.
Education
2005 – 2009 yy. Taraz State Pedagogical Institute.
Specialty: "Foreign language: two foreign languages"
2010 – 2012 yy. Taraz State University named after M.Kh.Dulati.
Specialty: "Information Systems"