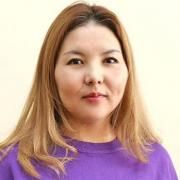 Zhubanova Sholpan Aldabergenovna
Ph.D., Master of Science
Lecturer
School of General Education
English Language
Email: sh.zhubanova@satbayev.111
Professional biography
Lecturer of English language for non-linguistic students at Satbayev University.
PhD student at Kazakh Ablai khan University of International Relations and World Languages.
Qualification-philologist, teacher with 15 years' experience.
The holder of the diploma of the Ministry of Education and Science of the Republic of Kazakhstan and the Erasmus + National Office in Kazakhstan "For contribution to make a partnerships and a creative approach to teaching" and the I-degree diploma "Zhas Talap" is a scientific competition among young scientists.
Grant holder of the International Conference "Going Global" London, United Kingdom 2017.
I took part in the International Project "Student Self-governance and Democratic Movement in Kazakhstan" in Vienna (Austria), Berlin (Germany), Boku (Latvia), Prague (Czech Republic) and Kazakhstan universities in Astana, Taraz and Shymkent.
In 2019, I had an international internship in Erzurum (Turkey), at Ataturk University, Kazim Karabekir Faculty, at the Department of Computer Education and Instructional Technology.
There are 40 research publications in international scientific conferences, foreign journals and highly indexed international journals as Web of Science and Scopus.
In 2004, I graduated Akhmed Yassavi Kazakh-Turkish International University with a degree in Foreign Philology and entered to Kazakh Ablai Khan University of International Relations and World Languages for master degree. I have worked in KazUIR&WL since 2005 in two positions: senior lecturer of foreign language education at the Department of International Communication and Department of Basic English, and deputy-dean of the Faculty of Management and International Communications.
Interests: e-learning, EFL, ESL, ESP, LSP, digital educational resources, distance education
Education
2000-2004 A.Yassavi International Kazakh Turkish University. Bachelor degree-philology
2004-2006 Ablai khan Kazakh University of International Relations and World Languages. Master degree- foreign philology
2016-2020 Ablai khan Kazakh University of International Relations and World Languages. PhD- foreign language: two foreign languages
Scientific projects
1. International project- Going Global 2017/10 Spring Gardens, British Council, London
2. ISOC - Chapterthon 2017: Digital Schools! On-line lectures https://www.internetsociety.org/chapterthon-2017-connect-school
3. Professional research project: "The integrative framework of communicative education of students in the humanities" Almaty, 30.05.2012 (Type of the research: Applied researches in the field of communication education)
4. Educational international project: "Students self-governance and democratic involvement in Kazakhstan". Germany, Latvia, Austria, 13 universities of Kazakhstan
Publications
1. Zhubanova Sh.A., Berkinbayeva G., Meirbekova G. Digital educational content as an innovative pedagogical technology and its didactic potential in the foreign language professionally oriented teaching. WEB OF SCIENCE (Clarivate Analytics). Ad Alta-Journal of Interdisciplinary Research. 2018.-V.8.-Iss-1.-Special Issue-4.-P.57-67.
2. Zhubanova Sh. Multimedia technologies in EFL education: New learning strategies in academic listening. The Kazakh-American Free University Academic Journal №8 - December, 2016, 13 pages, ISSN 2153-926X, USA, Oregon.
3. Zhubanova Sh., Djusubalieva D. Use of innovative approaches and technologies in the modernization of foreign language education. "Innovation Management and Technology in the Era of Globalization": materials of the IV International scientific-practical conference. In two volumes. Volume I– Dubai, UAE: Regional Academy of Management, 2017. – 389 p. ISBN 978-601-267-338-8
4. Zhubanova Sh., Tukhtabayeva A. E-course construction and its implementation in EFL education (on the basis of innovative tendencies and software tools). Bulletin "Almanac science Association France-Kazakhstan" Boulogne, France 2018, volume 2, p. 5-13.