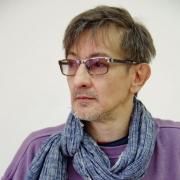 Professional biography
Dosmagambetov Sanzhar has about 8 years of teaching experience. He worked at the Almaty art school as a teacher of drawing, sculpture and composition, and then taught at the Eurasian University in Astana. He is a participant of many national and foreign exhibitions and competitions, author and co-author of several monuments, including monuments to K. I. Satpayev in Almaty and Pavlodar, A. Baitursynov in Kustanay, monument to A. Mambetov, etc. Since 2004, a Member of the Union of artists.
Education
Sculptor, Almaty art school. O. Tansykbayev, 1982-1986
Artist of architectural and decorative plastics, St. Petersburg higher art and industrial school. V. I. Mukhina, 1986-1993 gg.
Scientific projects
Sculpture, monumental art, painting Today Dosmagambetov S. T. is an active sculptor whose works are ordered in Kazakhstan, Russia, the USA and other countries of the world.
Publications
1 International exhibition "Islamic revival", Art-Line gallery, Almaty, 2019.
3 Implemented project of decorative Park sculpture in the Park of Nursultan, 2019.
4 Exhibitions of modern sculpture in Kazakhstan, Art Center, Almaty, 2019.