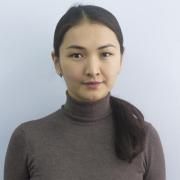 Anarbayeva Zhansaya Nurzhankyzy
Master of science
Tutor
School of General Education after A. Mashani
English Language
Email: zh.anarbayeva@satbayev.111
Professional biography
Miscellaneous teacher of English language. Started pedagogical career of instruction English language since 2017 at the Eurasian Technological University. Attended and contributed to various training sessions, participated in marketing events for the language school, prepared information for inspection visits and other quality assurance exercises. Undertook administrative tasks, such as keeping student registers and attendance records. Was awarded scholarship from Erasmus+ staff exchange program of professional internship at the University of Abertay, Dundee, Scotland. January 2019. English tutor at KazNTU named after Satbayev 2019.
Scientific projects
Research interests and current projects: Teaching English as a Foreign Language: Traditional and Innovative Methods. The use of new technologies in teaching a foreign language, digitalization of instruction.
Publications
1) "The Use of Internet Technologies in Teaching English," a collection of student congresses at the Maltepe University "New Approaches in Education", Istanbul, 2015.
2) "Use of video resources for the development of oral speech in multilingual entities", 2016.
Education
1 ) 2011-2015: Bachelor degree Suleyman Demirel University,Faculty of Philology, a speciality "Foreign Language: Two Foreign Languages".
2) 2015-2017: Master's degree of KazNPU named after Abay, Faculty of foreign languages, a speciality "Foreign language: two foreign languages".