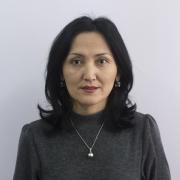 Duiseyeva Laila Abibullayevna
Master of humanities
Senior Lecturer
Institute of Project Management
Department of Foreign Languages
Email: l.duiseyeva@satbayev.111
Professional biography
Since 2017 a Senior Lecturer of the Department of Foreign Languages at Satbayev University. Qualification – a teacher of English and Russian with 28 years of experience.
2002-2017 – Senior lecturer, Al-Farabi Kazakh National University, Department of the Diplomatic Translation. I have contributed about 25 publications including 4 educational manuals and 1 textbook (coauthor). Have a number of certificates including CELTA (Certificate in Teaching English to Speakers of Other languages), TKT (Teaching Knowledge Test) from the University of Cambridge and a special certificate for training IELTS.
1994-2002 – Lecturer, the Kazakh State University of World Languages, Department of the English Grammar.
Education
1989-1994 – The Kazakh University of International Relations and World Languages named after Abylai Khan, Faculty of the English language. Qualification – Teacher of English and Russian.
2012-2014 – Kainar University, Faculty of Law. Qualification - Master of Arts.
Publications
1. English for Economists (educational manual), ISBN 978-601-04-1423-5 Аl-Farabi KazNU, 2015 (coauthors: M.K.Makisheva, R.Y.Sarbayeva)
2. Reading Newspapers (educational manual for senior students of DIR), ISBN 978-601-04-0086-3, KazNU al-Farabi, 2013 (соauthor: M.K.Мakisheva)
3. So many questions (methodological guide), ISBN 9965-29-599-9, ББК 81.2 Анг. Аl-Farabi KazNU, 2011
4. Improve your English (educational manual for the 3rd year students), Б 460(05)-040-09 ББК 81.2 Анг. Аl-Farabi KazNU, 2009 (соauthors: A.Sh.Baitukayeva, M.K.Макisheva, M.T.Dzhamaldinova, M.N.Nurgalieva, R.M.Rahymbayeva)
5. Improve your Grammar (methodological guide), Д 460(05)-05 151-04 ББК 74.261.7 Анг. Аl-Farabi KazNU, 2005
6. Zhegisbek Tolen, Laila Duiseyeva (2018) The Aspects of the Relationship between Political Stability and Political Culture in a Modernized Society, Annals of the Brazilian Academy of Sciences 90(3): 3256-3266
7. Manat Zhamaldinova, Laila Duiseyeva (2016), Шет тілін үйретудегі инновациялық технология түрлері: кейс стади технологиясы, Bulletin of KazNU, International Relations and International law series, 1/73
8. Manat Zhamaldinova, Laila Duiseyeva (2015), Қазақстандағы экономикалық даму - Ұлы жеңіске қосқан үлес. Bulletin of KazNU, series of History, June.