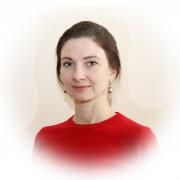 Ferens Yulia Vladimirovna
Master of humanities
Lecturer
Institute of Project Management
Department of Foreign Languages
Email: y.ferens@satbayev.111
Professional biography
Since 2019 I have been working as a lecturer of the Department of Foreign Languages at Satbayev University with 4 years' teaching experience.
I started my career as an English teacher in a school with in-depth study of a number of subjects in Samara, Russia.
Since 2020 I have held the international certificate in teaching English -TESOL.
Education
2016-2018 Johannes Gutenberg University of Mainz, Mainz, Germany. Full-time magistracy. Faculty - Translation Studies, Linguistics and Cultural Studies. Qualification - translator of the English and German languages.
2001-2004 Samara Academy of Humanities, Samara, Russia. Faculty of Philology, Specialization – German Philology, English Language and Literature, German Language and Literature. Qualification - Philologist. Teacher and translator of the English and German languages.
Scientific projects
Teaching English in courses for University staff. The focus of scientific interests - the use of new technologies in teaching foreign languages: traditional and innovative methods and approaches. Currently I am engaged in the introduction of educational technologies in the pedagogical and educational processes of the University.
Publications
1. G. A. Baizhanova, A. B. Kalkayeva, Y. V. Ferens, A. Y. Yerzhanova «Common problems in learning English grammatical collocations among Kazakh learners of English», (2021), "Kazakhstan Science Journal", 2(27), https://sciencejournal.press/sj/article/view/242/200
2. G. A. Baizhanova, A. B. Kalkayeva, Y. V. Ferens, A. Y. Yerzhanova "The Role of Feedback in L2 Academic Writing", XIX International Multidisciplinary Conference "Recent Scientific Investigation", Shawnee, USA. https://www.internauka.org/conf/usa/19/259332