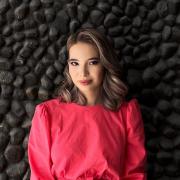 Gotman Yanna Karlovna
Master of Technical Sciences
Assistant
Satbayev University
Researchers of Satbayev University holding
Email: y.gotman@satbayev.111

Professional biography
2019-2021 - Satbayev University, Institute of Industrial Automation and Digitalization.
Position: Specialist of the Directorate
From 2021 to the present, Institute of Energy and Mechanical Engineering, Department of "Mechanical Engineering, Standardization, Certification and Metrology"
Position: Assistant
Education
2015-2019 - Satbayev University, Bachelor of Engineering and Technology in the specialty "Mechanical Engineering".
2019-2021 - Satbayev University, Master of Technical Sciences in the field of digitalization of machine-building production.
Scientific projects
Portable cardioanalyzer. Project support manager
Publications
1. Нүсіпәли Р.К., Готман Я. К., Исаметова М.Е. "Қабаттап өcipy әдісімен ортадан тепкіш сорғыньң жұмысшы доңғалағының прототипін жобалау жэне дайындау" (2020). Труды Сатпаевских чтений «Сатпаевские чтения - 2020» Том II, И С21 - Алматы: КазНИТУ имени Сатпаева, 2020. ISBN 978-601-323-209-6, с. 188-192.