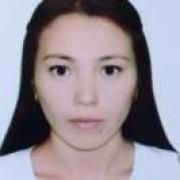 Janar Qudaiberdi
Master of Science
Tutor
Institute of geology, oil and mining
Department of "Hydrogeology, Engineering and Oil and Gas Geology"
Email: zh.kudaiberdi@satbayev.111
Professional biography
Majors: Fluid and gas mechanics, Underground hydrodynamics, Transport in porous media, Viscous flow hydrodynamics, Multiphase flows, Oil recovery enhancements, Geophysical exploration of wells, Geological 3D simulations with gOcad and Petrel, Dynamic 3D simulations with Eclipse, Comsol Multiphysics, Geostatistics, Petrophysics and core analysis, Petrography and mineralogy, Stratigraphy and sedimentology, Leaching methods, Petroleum systems, Petroleum geochemistry, Thermodynamics of petroleum fluids, Numerical simulation of oil recovery and.
Computer skills: Microsoft Office, COMSOL Multiphysics, 3D dynamical modeling with Eclipse, 3D Geological modeling with gOcad and Petrel, OpenFOAM, Maple, AutoCAD, MapInfo, CorelDraw.
Scientific projects
Kudaiberdi Zhanar worked on the project: "Preparation of design estimates (PSD) for the object" Exploration work to provide groundwater reserves in villages of the South Kazakhstan region, including: the city of Kentau - Aschysay "- was engaged in typing, digitizing maps and generalizations of materials.
Education
Kudaiberdi Zhanar graduated from Kazakh National University named after al-Farabi (KazNU) in 2013 with a degree in Mechanics. She received a master's degree in 2015 in the specialties: Mechanics (KazNu named after al-Farabi, Almaty) and Subterranean Reservoirs of Energy (University of Lorraine, Nancy, France). First-year doctoral student in the specialty 8D05202-Hydrogeology and engineering geology.