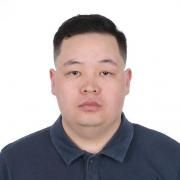 Kabdullin Azat Amangeldiuly
Master of Technical Sciences
Lecturer
Institute of Automation and Information Technologies
Department of "Cybersecurity, information processing and storage"
Email: a.kabdullin@satbayev.111
Professional biography
working on dissertation «Development of an intellectual biomedical data analysis system for the diagnosis and prognosis of cardiovascular diseases», scientific consultant Naizabayeva Lyazat Kadyrgalievna,
foreign supervisor Vladimír Siládi.
Since 2016, he has been working at Satbayev University as an assistant at the Department of "Cybersecurity, Data Processing, and Information Storage".
Education
2010 - 2013 Narxoz University Specialty "Information Systems", 5B070300 - Information Systems, ЖБ №0625003
2013-2015 Kazakh Economic University named after Turar Ryskulov
Faculty of Engineering and Economics, Specialty Business Informatics, 080500 - Business Informatics, ЖООК –
М №0077348
2013 - 2015 St. Petersburg National Research University of Information Technologies, Mechanics and Optics.
6М070300 - Business Informatics Master of Engineering Specialty "Business Informatics", 080500 – Business Informatics, №107824 0107304
2018-2021 Satbayev University 6D070300 - Information Systems PhD