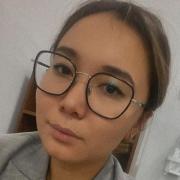 Kenzhebayeva Nuraiym Daurenovna
Master of pedagogical Sciences
Lecturer
Institute of Project Management
Department of Foreign Languages
Email: n.kenzhebayeva@satbayev.111
Professional biography
From September 2022 to the present, has been an English teacher of the Department of Foreign Languages at Satbayev University . 2019-2022 - English teacher at Republican Higher Medical College.
Education
2015-2019 - Kazakh National University named after al-Farabi. Specialty: "Two foreign languages". 2020-2022 - Alikhan Bokeikhanov University. Specialty: "Pedagogy and psychology".
Publications
1. "Psychological and pedagogical problems of education in the conditions of innovative development" Title of the article: "The main directions of the study of the problem of personality self-organization", April 12, 2022, Pavlodar.
2. Collection of materials of the international scientific-practical conference "The legacy of Akhmet Baitursynuly: the Kazakh language and the modern educational process. "Title of the article"Research activity as an important tool for student preparation" 551 pages, 2022, Pavlodar.