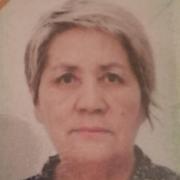 Menshukova Nazym Ospanovna
Senior Lecturer
Institute of Project Management
Department of Foreign Languages
Email: n.menshukova@satbayev.111
Professional biography
Senior teacher of the Department of Foreign Languages at Satbayev University.
I began my pedagogical and professional activities as an English teacher at school, and then as an English teacher at the Humanitarian University named after D. Kunayev, after that I worked as an English teacher at the Faculty of the Roman-Germanic Philology at KazUIR&WL, an instructor at the Language Center at KIMEP. I have over 30 years of experience teaching English.
To improve my teaching skills, I constantly attend seminars and trainings of domestic and foreign specialists. I have certificates.
In 2013, I was a member of the Commission for conducting entrance examinations for undergraduates and doctoral students through the Republican Center for Advanced Studies, there is a Letter of Thanks.
In 2017, I was awarded the Certificate of Honor of the Ministry of Education and Science of the Republic of Kazakhstan.
Education
1. 1969-1795 - Alma-Ata - Pedagogical Institute of Foreign Languages, specialty: Teacher of the secondary school, English language,№ 225535
2. 1974 - Alma-Ata travel and excursion bureau, specialty: guide
Publications
1. «Переход казахского алфавита на латинскую графику- веление времени». Международная конференция, посвященная 85-летию кафедры каз.языка и проф.каз.языка КазНМУ им.С.Асфедиярова,2018
2. «Internalization of the medical education (on the example of Asfendiyarov KAZNMU, 2018
3. A textbook for the 3d-year -students "A New Effective Advanced English Course for Specific Purposes: Philology", 2005
4. A textbook for beginners "Brush up your English", 2019