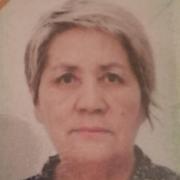 Professional biography
I am a lecturer of the English language department at Satbayev University with 1year experience. I am the author of more than 10 publications in the field of teaching English and teaching methods, the author of a textbook for 3rd year students of the faculty of foreign languages, the author of the textbook "Brush up your English" for beginners.
! began my working career in 1974 as a guide.
My pedagogical and professional activities start as an English teacher at school, and then as an English tutor at the Humanitarian University named after D.A. Kunayev. My teaching experience in English is 30 years.
To improve pedagogical skills, I constantly attend seminars and trainings of domestic and foreign specialists and have certificates.
In 2013, I was part of the commission for conducting entrance exams for postgraduates and doctoral students through the Republican Center for Advanced Studies, there is a Letter of Thanks.
In 2017, I was awarded the Honorary Diploma of the Ministry of Education and Science of the Republic of Kazakhstan.
Education
1. Alma-Ata - Pedagogical Institute of Foreign Languages
Specialty: Teacher of the secondary school, English language,№ 225535
2. Alma-Ata travel and excursion bureau
Specialty: guide
Scientific projects
Teaching English as a foreign language: traditional and innovative methods.
Publications
1) Scientific article "The transition of the Kazakh alphabet to the Latin script is the imperative of the time." International conference dedicated to the 85th anniversary of the Kazakh language and professional Kazakh language department of S.D. Asfendiyarov KazNMU, 2018
2) Scientific article "Internalization of the medical education in Kazakhstan" (on the example of Asfendiyarov KazNMU), 2018