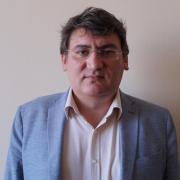 Simonov Andrey
Director
Institute of Digital Technology and Professional Development
Email: a.simonov@satbayev.111
Professional biography
Governmental "Agency for Statistics"- Head of the IT department in the state civil services. An IT-programmer of the highest category, whose achievements are the construction of a centralized republican local network, educated and explained to the IT specialists of regional centers concerning setting up active network equipment, a server part in the framework of the creation of a centralized network.
- KBTU University "Scientific and Technical Center", (August 2006 - April 2018), Deputy General Director for 12 years. Managed projects as "Multifunctional complex PE&IT KBTU", "Training workshop of the Kazakhstan Maritime Academy" (KMA), training center for the oil sphere workers "Drilling Center KBTU", and "Photovoltaic station". Managed and supervised construction, design, administrative departments, marketing department, and stakeholder management. The KMA building is the world's first self-contained building with a working engine room with a mounted marine engine in the steppe, the first industrial building in Kazakhstan with proven energy efficiency performance.
-"Energy Efficient Systems and Technologies of the Group", Executive Director of the Kazakh-Russian company "EST Group" , LEED / BREEAM certification, mathematical energy modeling services have been provided at the following facilities - Green Quarter (BI Group), Emerald Quarter, Wilo Kazakhstan buildings, UAE Embassies and Consulates in Astana.
- Development Technologies Center, a Kazakh-South Korean construction company. Executive Director, construction site management.
During his working experience in the "KBTU" University, he held the positions of Deputy Director of the Business School and Deputy Director of the Publishing Center.
In the position of Deputy General Director of the KBTU "Scientific and Technical Center", he was responsible for construction, design, administrative departments, the marketing department, and managed relations with customers.
During his work at Satbayev University, the PolytechOnline distance-learning platform has become one of the best in the country. Data Center has been created in order to make high-quality decisions to improve the efficiency of the university using data mining tools (including the improvement of the university's position in the rankings), mentoring of university students has been organized to improve skills in such kind of areas as Data Engineering and Data Analytics.
Education
Almaty University
Faculty of Economics and Business
Kazakh National University. Al-Farabi
Faculty of Mechanics and Applied Mathematics