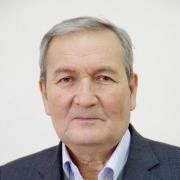 Temirbayev Alik
Honorary Architect
Lecturer
Institute of Architecture and Construction
Architecture
Email: a.temirbayev@satbayev.111
Professional biography
From 1976 to 1979 Temirbaev A. E. worked in the Main architectural and planning Department of A Alma-Ata city Executive Committee as head of the Department. From 1979 to 1993 he held the position of chief project architect at the state design Institute "Almatygiprogor» From 1993 to 1994-chief project architect at Setom» From 1994 to 2004-head of the investment Department In the Committee of housing construction and development of the territory of Almaty region. From 2003 to 2012 Temirbaev A. E. held the position of head of the Department and chief architect of the Almaty region in the Department of architecture and urban development of the Almaty region. From 2012 to 2013 - Adviser to the Governor of Almaty region. From 2013 to 2015 – Director of the representative office of JSC "Alatau". Since 2013, A. E. Temirbaev has been working as a lecturer at the Satbayev University at the Department "Architecture"
Education
Architect, Moscow architectural Institute, Moscow, 1976.
Scientific projects
Development of projects and coordination of master plans of cities and settlements in Almaty region
Publications
1 General plans of cities and settlements in the Almaty region.
2 The adjustment of the General plan of the city of Taldykorgan.