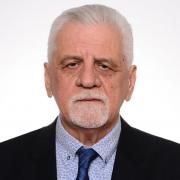 Zavaley Vyacheslav
Candidate of Geological and Mineralogical Sciences
Professor
Geology and Oil-gas Business Institute named after K. Turyssov
Department of "Hydrogeology, Engineering and Oil and Gas Geology"
Email: v.zavaley@satbayev.111
Professional biography
Professor of the Department of "Geology of Oil and Gas" Zavaley V.A. conducts active teaching and research activities. He is constantly improving his qualifications in the field of Hydrogeology, holds the patents "Method for operating a fresh water lens floating on zonal waters", "Universal method for constructing a water intake", "Method for regulating the discharge created by a pump by changing the volume of liquid recirculation" and certificates for courses "Safety and labor protection "and Groundwater reserves and resources and methods for their assessment, Hydrogeological aspects of the burial of industrial effluents in the bowels of the leading companies, he developed lecture hens Systems for undergraduates and bachelors and doctoral students.Work experience 47 y.
Education
Kazakh Polytechnic Institute.V. I. Lenin, Almaty, 1966-1971.
"Hydrogeology and engineering Geology", mining engineer hydrogeologist
Scientific projects
He is the supervisor of contractual topics:
1.The study of the zoning of the physical-filtration properties and parameters of aquifers in the plan and section of the Aktogay porphyry copper deposit in order to construct a hydrodynamic model for predicting groundwater inflows into the open pit
2. Evaluation of operational reserves of drainage water of the Aktogay copper-porphyry deposit in the Ayagoz district of the East Kazakhstan region and participates in the project as a research associate "Research and development of innovative wastewater treatment technology in the city of Kostanay, ensuring its environmental safety". Scientific adviser Ospanov K.T.
Publications
Over the past three years, he has published 6 scientific articles and reports at international conferences, including 2 in journals included in the SCOPUS database. Scientific management of students through SSS and 2 diplomas of the II degree, 1 diploma of the III degree at the annual Republican competitions of student scientific works.
Potential research studies of doctoral students
- Analysis of geological, hydrogeological and geochemical factors of the formation and operating conditions of the deposit;
- Analysis of existing methods of recultivation of aquifers after underground borehole leaching of uranium;
- Creation of models for filtration of technological solutions and mass transfer of polluting components during mining of uranium deposits;
- Assessment of the degree of environmental impact on the underground hydrosphere of the processes of operation of technological units;
- Forecast of the processes of self-recultivation of the underground hydrosphere and assessment of the environmental consequences of operation;