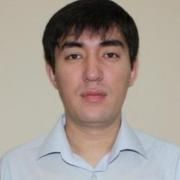 Aben Yerbolat
Candidate of technical sciences
Associate Professor
Mining and Metallurgical Institute named after O.A. Baikonurov
Department of Mining
Email: y.aben@satbayev.111
Professional biography
08.2021 Associate Professor, K.I.Satpayev KazNITU
08.2020 Assistant Professor, KazNITU named after K.I.Satpayev
08.2016 Lecturer, KazNITU named after K.I.Satpayev
09.2014-08.2015 Lecturer Kazadi named after L. B. Goncharov
09.2013-02.2016 part-time lecturer
06.2013 reviewer of diploma projects in mining KazNTU. K. I. Satpayeva
01.2010 -10.2014 part-time researcher 2002-2004 part-time laboratory Assistant at the University
08.2011-02.2015 chief project engineer of TAU-Ken Engineering LLP»
02.2009 - 07.2014 Director of LLP "НИПИ «Казгорпроект»
01.2009-08.2011 Chief specialist "Kazakhstan Nuclear University" at NAC " Kazatomprom"
02.2008-12.2008 head of IT and security Department
08.2007-01.2008 system administrator of "Mercury Trade " LLP"
02.2006-08.2007 leading engineer rtrk " Kazakhstan-1"
Education
Kazakh national Technical University, Institute of Automation and Control. Automation and Informatization in control systems, system engineer, ЖБ № 0677468
Institute of mining, Candidate of technical Sciences, Geotechnology (mining), ҒК № 0005613
Scientific projects
Participation in scientific projects (for the last 3 years):
Development of technology for extracting and extracting gold from poor ore veins, Senior Researcher; Development of technology for the intensification of denitration and leaching processes in the conditions of the Tsentralny site of the Mynkuduk field, senior researcher; Intensification of the production process with the use of oxidizing agents in the leaching process at the Mynkuduk, research associate
Publications
Kh. Yussupov, E. Aben, A. Omirgali, A. Rakhmanberdiyev. Analyzing a denitration process in the context of underground well uranium leaching. Mining of Mineral Deposits, 15(1), 2021, 127-133 DOI: 10.33271/mining15.01.127
Е.Х. Абен , С.Т. Рустемов , Г.Б. Бахмагамбетова , Д. Ахметханов. Повышение извлечения металла на основе активации выщелачивающего раствора. MIAB. Mining Informational and Analytical Bulletin, 2020
E Aben; Zh Markenbayev; N Khairullaev; S Myrzakhmetov; Kh Aben. Study of change in the leaching solution activity after treatment with a cavitator. Mining of Mineral Deposits, 2019
KK Aben, KA Yussupov, Aben E Kh. Development of resource-saving technology for mining of reserves below the pit bottom. Topical issues of resource-saving technologies in mineral mining and processing. 2018.
M. Zh. Bitimbaev; L. A. Krupnik; E. Kh. Aben; Kh. Kh. Aben. Adjustment of backfill composition for mineral mining under open pit bottom. Gornyi Zhurnal on February 26, 2017
Х.А. Юсупов., Е.Х. Абен, А.К. Омиргали, Н. Хайруллаев. Исследование изменения активности выщелачивающего раствора во времени после обработки кавитатором. Новости науки Казахстана. № 1 (148). 2021
Е.Х. Абен, Н. Хайруллаев.Исследование влияния активации раствора на плотность продуктивного раствора и на содержание полезного компонента. Комплексное Использование Минерального Сырья. №2 (313), 2020
С.Г. Оника, К.Б.Рысбеков, Г.Б. Бахмагамбетова, Е.Х. Абен.Зависимость скорости выщелачивания от температуры продуктивного раствора. Вестник КазНИТУ, №6 (142), 2020
Potential research studies of doctoral students
Research on the problems of uranium mining by underground borehole leaching