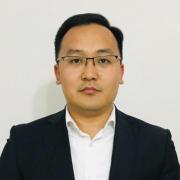 Abutalipov Murat Muhtaruly
Ph.D.
Senior Lecturer
Institute of Project Management
Department of Management and Mathematical Economics
Email: m.abutalipov@satbayev.111
Professional biography
Murat Abutalipov is a graduate of the Turkish Scholarships program. He defended his doctoral (Ph.D.) dissertation on "Export Diversification and Economic Growth: Panel Analysis for Transition Economies" at Karadeniz Technical University. Prior to that, he received a master's degree from Akdeniz University with a degree in International Trade. From 2016 to 2017 he taught economics at the Akhmet Yassawi International Kazakh-Turkish University.
Education
2010-2013 International Kazakh-Turkish University by named Khoja Ahmet Yasawi, accounting and auditing
2013-2016 Akdeniz University (Turkey), International Trade
2017-2022 Karadeniz Technical University (Turkey), Economics