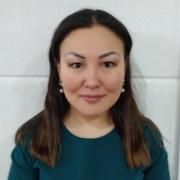 Aizhan Kalqaeva
Master of humanities
Senior Lecturer
Institute of Project Management
Department of Foreign Languages
Email: a.kalkayeva@satbayev.111
Professional biography
From August 2017 to the present time ‒ Senior Lecturer at the Department of Foreign Languages at Satbayev University.
2016-2017 ‒ English teacher in the language centers of Almaty (educational center "Regent-Calderdale", "Brightway" language school).
2016 ‒ project manager for the introduction of multilingual education, Deputy director for development, College "Adilet" of Caspian University.
2012-2015 ‒ Senior manager of the Treasury Department, Strategic Development Department, "Fund for Financial Support of Agriculture" JSC.
2009-2010 ‒ Senior specialist of the Financial Center Promotion Department, "Regional Financial Center of Almaty" JSC.
2007-2008 ‒ Inventory accountant, "Procter&Gamble Kazakhstan" LLP.
2006-2007 ‒ Junior specialist of the SME Department, "Alliance Bank" JSC.
2005-2006 ‒ English teacher, school-gymnasium #51.
Education
2019 ‒ International qualification in teaching English, accredited by the University of Cambridge ‒ "Certificate in Teaching English to Adults" ("CELTA").
2015 ‒ "Coach Practitioner" certification from the International Coaches Union.
2008-2010 – Aston University (Birmingham, UK), full-time master's program by "Bolashak", specialty – "Finance and Investments".
2003-2007 ‒ Al-Farabi Kazakh National University, Faculty of Economics and Business, Bachelor's degree, specialty – "Finance".
Publications
1) Kalkayeva A.B, "Управление рисками в исламских финансах", Russian journal "Financial RiskManagement", No. 2, 2010, pp. 98-109.
2) Kalkayeva A.B, "Advantages and Disadvantages of ICT application in ELT", proceedings of the 1stInternational Conference of Satbayev University and the Kazakh-German University "Teaching English in the Era of Digitalization", 2019, p.4-11.
3) Kalkayeva A.B., Nassyrova R.M.,"CLT Approach in the context of Synchronous Online Teaching: Challenges and Perspectives", International Electronic Periodical Edition "Kazakhstan Science Journal", April 2021, No. 4.
4) Chalimbaeva A.D., Nassyrova R.M., Kalkayeva A.B., "Competences of a University EFL Teacher", VI International Scientific-Practical Conference "Integration of the Scientific Community to the Global Challenges of Our Time", Volume III, Regional Academy of Management, Japan, 2021, pp.110-115.
5) Baizhanova G.A.,Erzhanova A.E., Kalkayeva A.B., Ferens Yu.V., "Common problems in learning English Grammatical Collocations among Kazakh learners of English", International Electronic Periodical Edition "Kazakhstan Science Journal", February 2021, No. 2.
6) Bayzhanova G.A., Kalkayeva A.B., Erzhanova A.E., Ferens Yu.V., "The Role of Feedback in L2 Academic Writing", XIX International Multidisciplinary Conference "Recent Scientific Investigation", USA, April, 2021.