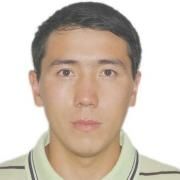 Bektur Bakytbek
Ph.D.
Senior Lecturer
Mining and Metallurgical Institute named after O.A. Baikonurov
Department of Mining
Email: b.bektur@satbayev.111
Professional biography
Total experience of scientific and pedagogical activity: 6 years.
Work experience in the specialty: 8 years.
2006-2010 Bachelor 5B0707 "Mining"
Teacher with more than 6 years of experience.
In different years, he passed scientific and pedagogical internships participated in the seminar "Jas outhouse school»; from March 24 to March 28, he participated in the seminar "Modern photogrammetric technologies of the DFS PHOTOMOD remote sensing data processing" in Almaty,
from may 19 to 22, a training session on "SPRINGER Link/eBook User" was held»;
from 11 to 26 November, Professor A. Shashenko held a training lecture "Modern method of numerical modeling in geomechanics, Geomechanical monitoring system»;
from November 24 to December 5, he listened to the lectures of Professor E. Levin "Photogrammetry with Element of the Remote Sensing", and received the appropriate certificates.
participated in the seminar " Modern photogrammetric technologies for remote sensing data processing. New features of CFS PHOTOMOD 6.0 " Astana, received the corresponding certificate. from November 22 to December 6, he completed a foreign research internship at Michigan technical University, Houghton, USA.
he took English language courses and passed IELTS at the Inter Press language center and received a certificate with a score of 4.0. 2017-from April 8 to April 23, he completed a foreign research internship at the Moscow mining Institute of nust MISIS. During the internship, he took part in the international forum-competition of young scientists "problems of subsoil use" from 19 to 21 April 2017 (St. Petersburg, Russia) with a report and received a certificate of participation.
Author of more than 30 scientific papers, including 5 Scopus and 2 Web of science indexed in the database
Computer skills: MS Office, AutoCAD, CorelDRAW, MapInfo, Gemcom Surpac, ABBY FineReader 11 and the ability to work with modern geodetic tools.
Education
2006-2010 KazNTU named after K.I. Satpayev, Mining Institute, Bachelor of 5B0707 Mining, ZhB No. 0035613
2010-2012, KazNTU named after K.I. Satpayev, Mining Institute, Master 6M070700 Mining ZhOOK-M No. 0020724
2014-2017, Kazakh National Technical University named after K.I. Satpayeva. PhD, candidate 6D070700 "Mining", PhD 00022738492.
Scientific projects
Participation in research projects (over the last 3 years):
"Development of a methodology and new options for resource-completing technology for repeated underground mining with rational and integrated development of natural and technogenic reserves from the bowels". Researcher (0.5 rate). Leaders of the topic –– Bekbergenov DK, Ph.D., Head of the Laboratory "KON", IGD named after D.A. Kunaev. (2014 - 2017)
"Scientific research of the parameters of optimal drilling during treatment and sinking with the determination of a decrease in the specific consumption of VM", Junior Researcher of the contract agreement project No. 4.946.17, performed from April 19, 2017 to December 30, 2017 on the basis of agreement No. 487/17 of April 19, .2017, KazNITU named after K.I. Satpayev and Akzhal field, Nova Zinc LLP. The topic was headed by Doctor of Technical Sciences, Professor of the Department of Mining A. Begalinov (2017).
No. AR05133041 "Development of a cyanide-free technology for the extraction of gold from refractory natural and technogenic mineral raw materials", carried out in accordance with the contract No. 110 dated March 05, 2018 with the Ministry of Education and Science of the Republic of Kazakhstan within the framework of the state order for the budget subprogram 102 "Grant funding for scientific research". Head - Begalinov A., Doctor of Technical Sciences, Professor, Department of Mining, GMI, KazNITU named after K.I.Satpayev - (2018-2020)
No. AR05131352 "Development and justification of the parameters of combined geotechnology for the safe and sustainable development of chromite mining in deep horizons". In the framework of the state order for the budget subprogram 102 "Grant funding for research." Supervisor - Bekbergenov D.K., Ph.D., head of the laboratory "KON", IGD named after D.A. Kunaev (2018-2020)
Developing a Technology of Mining and Processing of Sands from Old Large-Volume Placers in Depressions with a Predominance of Disseminated and Fine-Grained Free and Fixed Gold (Takyr-Kaldjirskiy Site) 2021-2023.
Publications
Abdrakhman Begalinov, Mels Shautenov, Talgat Almenov, Bakytbek Bektur, Raissa Zhanakova. Prospects for the effective use of reagents based on sulfur compounds in the technology of extracting gold from resistant types of gold ore. Journal of Advanced Research in Dynamical and Control Systems. Volume 11. 08-Special Issue. Pages: 1791-1796 USA, October, 2019
M.E.Kuttykadamov, K.B.Rysbekov, I. Milev,K.A.Ystykul, Bektur B.K. Geodetic monitoring methods of high-rise Constructions deformations with modern Technologies application / Journal of Theoretical and Applied Information Technology 15th November 2016. Vol.93. No.1,24-31 pp.
Volume 1, Issue 433, 2019, Pages 90-97 Current condition and outlooks of sustainable development of chromite underground mining at lower horizons of mines of the donskoy mining and processing plant(Article)(Открытый доступ) Bekbergenov, D.K.aEmail Author, Jangulova, G.K.b, Bektur, B.K.
Begalinov, A., Almenov, T., Zhanakova, R., Bektur, B. «Analysis of the stress deformed state of rocks around the haulage roadway of the beskempir field (Kazakhstan)» Satbayev University, Almaty, 50013, Kazakhstan. Mining of Mineral Deposits.Volume 14, Issue 3, 2020, Pages 28-36.
Zhanakova, R.a, Pankratenko, А.b, Almenov, Т.a, Bektur, В.a «Rational selection of the form of support for the formation of genetic composition of rocks in the conditions of the Beskempir». aKazakh National Research Technical University named after K. I. Satpayev (Satpayev University), Almaty, Kazakhstan. bNational University of Science and Technology (MISIS), Moscow, Russian Federation. News of the National Academy of Sciences of the Republic of Kazakhstan, Series of Geology and Technical Sciences Volume 1, Issue 439, 2020, Pages 106-113№. http://geolog-technical.kz/images/pdf/g20201/106-113.pdf
Begalinov A., Shautenov M., Medeuov Ch., Almenov T., Bektur B. MECHANOCHEMICAL ACTIVATION OFTHE PROCESSING OF GOLD-BEARING SULFIDE RAW MATERIALS NEWS OF THE NATIONAL ACADEMY OF SCIENCES OF THE REPUBLIC OF KAZAKHSTAN SERIES OF GEOLOGY AND TECHNICAL SCIENCES. ISSN 2224-5278. Volume 6, Number 450 (2021), 46-52. https://doi.org/10.32014/2021.2518-170X.118
Abdrakhman Begalinov, Mels Shautenov, Talgat Almenov, Bakytbek Bektur. Тема: «Leaching process intensification of gold-bearing raw materials». Mining of Mineral Deposits, Volume 16 (2022), Issue 2, 42-48. https://doi.org/10.33271/mining16.02.042