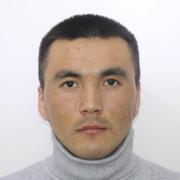 Berdali Meyirman
Master of Technical Sciences
Deputy Director
Institute of Architecture and civil engineering
Email: m.berdali@satbayev.111
Professional biography
Berdali Meirman Nurzhanovich, in 2018 received a bachelor's degree in Engineering Systems and Networks from the Kazakh National Research Technical University named after K.I. Satpayev, and in 2020 he received a master's degree in technical sciences.
Winner of a number of diplomas and awards in various sports competitions. Also the winner of the scholarship program of the Public Association "Taiburyl" under the program "Monthly scholarships" 2016.
In 2019-2020 he worked as a refrigeration equipment foreman at AVC-Engineering LLP. Experienced in refrigeration and air conditioning.
Since 2021 he has been working as a tutor at the Department of Engineering Systems and Networks of the Institute of Architecture and Construction named after T.K. Basenov.
Education
Higher:
1. 2014-2018 Kazakh national research University named after K. I. Satpayev. Department of Engineering systems and networks of the Basenov Institute of architecture and construction
2. 2018-2020 master's degree in 6m075200 "Engineering systems and networks", master of technical Sciences.
Scientific projects
Participation in scientific projects (for the last 3 years):
Worked as a laboratory assistant of the scientific project 2018/AP 05133670 on the topic: "Research, development and implementation of energy-saving heat protection fences and modern heat supply systems for buildings with automated heating points" from September 1, 2018 to December 31, 2018. From January 05, 2020 to December 31, 2020 as a laboratory assistant for the same project.
From April 16, 2021 to the present, he has been a researcher on the grant topic "AP09260842/Research, development and implementation of innovative dust removal technology in the Almaty metro based on the use of circulation flows from the piston action of moving trains" under contract No. 178/36-21-23 from 15.04.2021.
Publications
1. Berdali M. N., Unaspekov B. A. "Using an air heat pump to save energy in subways"// scientific journal "Vestnik Kaznitsu 2020 No. 1 (137) p.250-253
2. Unasbekov B. A., Bedali M. N. The method of calculating the energy efficiency of heat pump systems. Scientific journal "Bulletin of KazNTU" 2020 #2 (138) p. 436-439
3. Nureyisova K.M., Berdali M.N. "Seismikalyk audandarda kubyrlardy toseu erekshelikteri."Proceedings of the International Scientific and Practical Conference dedicated to the 115th anniversary of the corresponding member. Academy of Sciences of the Kazakh SSR A.J.Mashanov and the 100th anniversary of Academician of the Academy of Sciences of the Kazakh SSR J.S.Yerzhanov "Innovative technologies in geospatial digital engineering". - - Almaty: Kazntu named after K.I. Satpayev, 2022. – pp. 555-561.