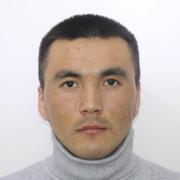 Berdali Meyirman
Master of Technical Sciences
Assistant
T. Basenov Institute of Architecture and Construction
Engineering systems and networks
Email: m.berdali@satbayev.111
Professional biography
Berdali Meirman Nurzhanovich, in 2018 received a bachelor's degree in Engineering Systems and Networks from the Kazakh National Research Technical University named after K.I. Satpayev, and in 2020 he received a master's degree in technical sciences.
Winner of a number of diplomas and awards in various sports competitions. Also the winner of the scholarship program of the Public Association "Taiburyl" under the program "Monthly scholarships" 2016.
In 2019-2020 he worked as a refrigeration equipment foreman at AVC-Engineering LLP. Experienced in refrigeration and air conditioning.
Since 2020 he has been working as an assistant at the Department of Engineering Systems and Networks of the Institute of Architecture and Construction named after T.K. Basenov.
Scientific projects
Within the framework of the state order under the budget subprogram 102 "Grant financing of scientific research" 2018-2020 is engaged in research on a scientific topic: "Research, development and implementation of energy-saving heat shields and modern heat supply systems for buildings with automated heating points".
Publications
1. Berdali M. N., Unaspekov B. A. "Using an air heat pump to save energy in subways"// scientific journal "Vestnik Kaznitsu 2020 No. 1 (137) p.250-253
2. Unasbekov B. A., Bedali M. N. The method of calculating the energy efficiency of heat pump systems. Scientific journal "Bulletin of KazNTU" 2020 #2 (138) p. 436-439
Education
Syllabi
Curriculum vitae