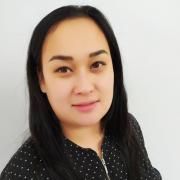 Gulzat S Aitkaliyeva
Doctor of phd
Senior-lecturer
School of Chemical and Biological Technologies
Email: g.aitkaliyeva@satbayev.111
Professional biography
PhD, since 2018 he has been working at the Satbayev University as a lecturer and researcher in the implementation of research work.
Development of new complex reagents based on petrochemical industry wastes and their application in the processes of preparation and transportation of high-viscosity Kazakhstani oils. Studying the main characteristics of oil and solid oil residues.
Scientific projects
AP05130530 «Development of production technology of high efficiency biodegradable surfactants using Kazakhstan's natural raw materials and wastes of their processing» Senior Researcher, Project Manager Orazbekuly Ye. 02.02.2018- 31.12.2020
«SRW "Development of conditions for the destruction of abnormally stable water-oil emulsions and the study of the role of activator aluminum alloys in the processes of decomposition of oil sludge" in the framework of TF: BR05236302. Researcher, Project Manager Iskakov R.M. 28.03 2018 - 31.12 2020
SRW "Development of a comprehensive environmentally friendly technology for the disposal of industrial waste of oil refining LLP "AOR ", demetallization and purification of sulfur from heavy oils and petroleum products using hydrogen energy of a new generation of EAS". Service purchase agreement with AOR LLP No. 395-18 of 19.04.2018 Researcher, Project Manager Boyko G.I. 19.04.2018-31.12 2018
SRW "Services on creating cost-effective energy-accumulating substances (EAS) of a new generation for the destruction of oil sludge from PDO "AOR" LLP, demetallization and desulfurization of heavy oil products (fuel oil, tar), the creation of coagulants and sorbents based on EAS for the treatment of waste and drainage waters ", Agreement on the purchase of services with AOR LLP No. 287403/2019 29.05.2019y. Researcher, Project Manager Boyko G.I. 29.05.2019- 31.12.2019
Publications
More than 30 publications, 4 patents of the Republic Kazakhstan, 4 articles included in the Scopus database.
1 Бойко Г.И., Любченко Н.П., Сармурзина Р.Г., Маймаков Т.П, Шайхутдинов Е., Алиев Э.Ф. Оценка состава асфальтосмолопарафиновых отложений и нефти месторождения Кумколь методами термического и ИК-спектроскопического анализов// ISSN 0026-2448, Нефтяное хозяйство. - 2015. - С. 80-82 (6).
2 Boyko G.I., Sarmurzina R.G., Karabalin U.S., Lubchenko N.P., ShaikhutdinovE.M., Karabalin U.S., Aliyev E.F. Modified polyolefins to prevent paraffin deposits on pipelines// Energy Production and Management in the 21st Century (WIT Press). ISSN 1743-3541. 2014 -P. 895-903.
3 M. A. Yelubay, Ye. Orazbekuly, G. S. Aitkaliyeva, S. R. MassakbayevaProduction of Esters Based on Waste Vegetable Oils// International Journal of Environmental Science and Development (accepted in September, 2019).
Education
2006 - 2010
KazNTU after K.I.Satbayev
Specialty 5В072100- Chemical technology of organic substances
2010 - 2012
KazNTU after K.I.Satbayev
Specialty 6М072100- Chemical technology of organic substances (master)
2012 - 2015
KazNRTU after K.I.Satbayev
Specialty 6D073900- Oil refinery (PhD)
Syllabuses