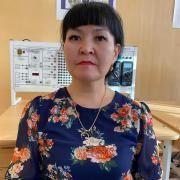 Kuttybayeva Ainur
Candidate of Economic Sciences
Associate Professor
Institute of Automation and Information Technologies
Department of Electronics, Telecommunications and Space Technologies
Email: a.kuttybayeva@satbayev.111
Professional biography
Autobiography
I, Kuttybaeva Ainur Ermekkalievna was born on February 24, 1975 in the village of Zhumisker, Karaganda region. Mother - Abdrakhmanova Tiyshtyk, was a cook in Shokle-boarding school, father is a machine operator in the village. I have 3 brothers and 1 older sister.
She graduated from high school named after Abay. She studied well, participated in olympiads in mathematics and biology. She went in for sports in basketball and volleyball.
After graduating from school in 1991, she entered the Kazakh National Technical University named after K.I.Satpayev in the Faculty of Information and Computer Engineering. 1996 graduated with a degree in systems engineer. In September 1996, she got a job in the Department of Informatics of the Kazakh Research Institute of Agricultural Economics. In 2000-2004 studied at the graduate school of the correspondence department of this research institute. In 2009 she defended her thesis for the degree of candidate of economic sciences, specialty 08/08/05 - Economics and National Economy Management.
I have three children: Koblanov Syrym Rashidovich - a pupil of the 2nd grade of school-lyceum No. 169 of Almaty. Koblan Azamat Rashidұly, Koblan Arai Rashidızy - 3 years old, twins. Husband - Bekniyazov Rashid. We live in the Shanyrak-1 microdistrict of Almaty. Since 2006 I have been working at the Department of Radio Engineering, Electronics and Telecommunications of KazNTU named after Satpayev as a lecturer. At the department I conduct classes on the discipline Fiber-optic systems in telecommunication and Multichannel telecommunication systems. I am a senior adviser in the department and responsible for the mutual visits of teachers and student placement. On August 20, 2014 she was elected a full member of the International Academy of Informatization.
Education
1) 1991-1996 - Kazakh National Technical University named after K.I.Satpayev. Specialty 2201 - "Computing complexes, systems and networks". Qualification - Systems Engineer;
2) 1999-2002 - Kazakh Research Institute of Economics and the PCT, graduate school, specialty 08/08/05 - Economics and national economy management;
3) 2009 she defended her thesis on "Diversification of crop production in agricultural enterprises"
Scientific projects
1) 2012-2014 Development of production technology of a frequency converter for induction heating of metal
2) 2014-2016 Research "Solar batteries - inverter - power grid" жүйелерін зерттеу
3) 2015-2017 Development of a wireless distributed monitoring system for wastewater pollution with antibiotics and aggressive drugs
Publications
1) Providing the necessary transmission speed at the physical level in a wireless network. KazNTU named after K.I.Satpayev, Almaty, December 1-2, 2011. Proceedings of the II Int. scientific-practical conference "Information and innovative technologies: integration of science, education and business" 2) Methods for increasing the throughput of the main fiber-optic transmission system. "Information and telecommunication technologies: education, science, practice", International scientific-practical conference dedicated to the 50th anniversary of the Institute of Information and Telecommunication Technologies of the Kazakh National Technical University named after K.I. Satpayeva Almaty, Kazakhstan, December 5-6, 2012 3) Development of technology to support multimedia learning resources. "Information and telecommunication technologies: education, science, practice", International scientific-practical conference dedicated to the 50th anniversary of the Institute of Information and Telecommunication Technologies of the Kazakh National Technical University named after K.I. Satpayeva Almaty, Kazakhstan, December 5-6, 2012 4) Calculation of bandwidth for video conferencing. Magazine Vestnik KazNTU named after Satpayev May 2014
5) Guidelines for practical exercises in the discipline "Fiber optic systems in telecommunications." Guidelines for practical exercises in the discipline "Fiber optic systems in telecommunications";
6) Increase of information transfer capacity of fiber-optic channels and communication lines. The Third International Scientific and Practical Conference "Status, Problems and Tasks of Informatization in Kazakhstan" is dedicated to the 80th anniversary of KazNTU named after K.I.Satpayev and the 20th anniversary of MAIN on November 20-22, 2014 Almaty KazNTU named after Satpayev;
7) Information and communication technologies of distance education.. The international scientific-practical conference of Nanotechnology in materials science is a new vector of industrialization in Kazakhstan, dedicated to the 85th anniversary of academician A.K. Omarov September 26-27, 2014 Almaty KazNTU named after Satpayev; 8) Determination of the location of damage in communication lines; Proceedings of the international forum "Engineering education and science in the XXI century: problems and prospects", dedicated to the 80th anniversary of KazNTU named after Satpayev Volume 2. October 22-24, 2014. 442-452 p. 9) Numerical study of focusing parameters of a five-electrode cathode lens with the rotational symmetry of the field. 2015 International Conference on Information Processing and Control Engineering (ICIPCE-2015) `(Scopus) Bauman Moscow State Technical University, Russia, April 15-17, 2015. 10) DWDM technology of the son ере rekshelіkterі zhne қoldanyluy. April 10, 2015 International Satpayev Readings - 2015 "The Role and Place of Young Scientists in the Implementation of the New Economic Policy of Kazakhstan"; 11) Methods of compensation of dispersion. April 10, 2015 International Satpaev Scholarship - 2015 "The role and place of high-quality parts in the implementation of the new economic policy of Kazakhstan" 12) Modern radio communication systems. KazNTU named after Satpaeva, 2015 Branches. University of KazNTU; 13) Understanding of Parameters of Linear System of Automatic Regulating. April 10, 2015 International Satpaev Scholarship - 2015 "The role and place of high-quality parts in the implementation of the new economic policy of Kazakhstan" 14) Pulsed infra-red projector with enhanced clock speed. Higher School of Kazakhstan, 4, 2014 pp. 304-308. 15) Up-to-date system of digital accuracy. Bulletin of KazNTU named after Satpayeva -February 18, 2015 2015. No. 1,268-273; 16) Develop a drawing to protect the telephone line from outside listening. Bulletin of KazNTU named after Satpaeva 2015 No. 6. 17) The analysis of schemes of contactless receiving of information from telephone communication. Bulletin of KazNTU named after Satpaeva 2016 г. # 1. Page 141-146 18) Paradoxical parameters and aberration of semiselectrode axes with asymmetric cathode lens. Bulletin of KazNTU named after Satpaeva 2016 г. No. 1.str.146-152; 19) Analysis of routing algorithms in the NGN network. Call the interdepartmental satellites of the subject "Competition of technical means and training". KazNTU Satpaeva 2016 20) Organization of communication with CURIOSITY marshall. Serikbayeva VK VKTU "Creative work of the young - innovative development of Kazakhstan" 14-15 April 2016 г. Part 4 Mat. 2-th thematic thematic conference of students, undergraduates and international students. Str. 222-226