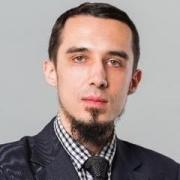 Mendygaliyev Adil
Master of engineering and technology
Senior Lecturer
Geology and Oil-gas Business Institute named after K. Turyssov
Department of "Geological survey, search and exploration of mineral deposits"
Email: a.mendygaliyev@satbayev.111
Professional biography
Senior Lecturer since 2021
Senior Researcher, Institute of High Technologies LLP, NAC Kazatomprom JSC since 2020
Chief specialist in geology, OGGR TsAU JSC "Volkovgeologia" from 2019 to 2020
Leading geologist of the State Enterprise of the branch of Volkovgeologia JSC, TsOME from 2015 to 2019.
Geological engineer of the 1st category SE, Engineer of the 1st category SE, Hydrogeological engineer of the 2nd category SE, Technician-hydrogeologist of the 1st category SE of the branch of JSC "Volkovgeologia" TSOME from 2007 to 2015.
Education
From 2004 to 2008 Kazakh National Technical University. K.I.Satpaeva, Geological Prospecting Faculty, full-time. Specializing in Geology and Exploration of Mineral Deposits, bachelor.
From 2008 to 2010 National Research Tomsk Polytechnic University, master's degree, full-time. Specializing in Geology and Mineral Exploration, Master of Engineering and Technology.
Scientific projects
Senior Researcher of research work on the topic: "Development of scientifically grounded recommendations for planning and applying various methods of workover of technological wells in the conditions of the North and South Karamurun field (2020 - 2021)
Senior Researcher for the preparation of the "Project for the development of the Kanzhugan uranium deposit" (2020 - 2021)
Senior Researcher of Research Work on the topic: "Study of the possibility of extracting rare earth elements, rare and noble metals by the method of underground borehole leaching from the spent technological blocks of uranium deposits of NAC Kazatomprom JSC (2020 - 2021)
Leadership of the geological group in the design and geological support of geological prospecting and exploration of uranium deposits of the reservoir-infiltration type (Shu-Sarysu and Syrdarya uranium ore provinces (2015-2020)
Lead performer (Author) in the development of a methodology for calculating the discovered uranium reserves in the Ortalyk area of ​​the Mynkuduk deposit (2018)
Publications
2020:
1. Impact geotectonic activation and its role in plate tectonics // WORKS OF THE SATPAY READINGS "SATPAY READINGS - 2020" Volume 1 p. 124-127
2. Development and innovative solutions to urgent problems of geological exploration of hydrogenic uranium deposits // scientific, technical and industrial Mining magazine of Kazakhstan № 3 2020, p. 6-13
2019:
3. TOPICAL AND PROBLEMIC TOPICS OF DEVELOPMENT AND MAINTENANCE OF THE URANIUM MINERAL RESOURCE BASE OF KAZAKHSTAN AND ASSOCIATED USEFUL COMPONENTS // Quarterly Sectoral Journal of Geology and Subsoil Use of Kazakhstan No. 4 (7) December 2019 p. 41-43
4. Actual directions of development of the provided geological information for the opening and mining of uranium ores by the underground borehole leaching method and their role in the development of deposits // Quarterly Industry Journal Geology and Subsoil Use of Kazakhstan No. 3 (6) October 2019 p. 30-33
5. Actual problems and their solution when calculating the discovered uranium reserves for their multi-storey mining by the method of in-situ leaching // Quarterly Industry Journal of Geology and Subsoil Use of Kazakhstan No. 1 (4) April 2019 p. 12-13
6. DEVELOPMENT AND RENEWAL OF THE MINERAL RESOURCES BASE OF URANIUM OF KAZAKHSTAN FOR SECURING LONG-TERM NEEDS OF THE URANIUM INDUSTRY OF THE REPUBLIC OF KAZAKHSTAN // COLLECTION OF WORKS OF THE IX-OY AREA OF THE INTERNATIONAL KAZAKHSTAN 31-34
7. SELECTION OF THE OPTIMAL METHOD FOR CALCULATING THE OPEN URANIUM RESERVES FOR THEIR MULTI-STOREY MINING BY THE METHOD OF UNDERGROUND WELL LEACHING ON THE EXAMPLE OF THE "CENTRAL" SECTION, MYNKUDUK DEPOSITS, Vol. with. 104-107
8. MONITORING OF GEOLOGICAL AND TECHNOLOGICAL MEASURES IN DEVELOPING MINERAL RESOURCES BASE OF KAZAKHSTAN fulfills URANIUM ISL MANNER AND ITS ROLE IN THE INDUSTRY // Proceedings of the IX-th International Scientific-Practical Conference "Actual problems of uranium industry" on November 7-9, 2019 , Volume 1, p. 108-110
9. CURRENT PROBLEMS AND THEIR SOLUTION WHEN CALCULATING THE OPEN URANIUM RESERVES FOR THEIR MULTI-STOREY MINING BY THE METHOD OF UNDERGROUND WELL LEACHING ON THE EXAMPLE OF THE CENTRAL MYNKUDUK DEPOSIT // Proceedings of the Academician of the XXIII International Symposium Anniversary , The 120th anniversary of the birth of Professor KV Radugin. Tomsk, 2019, p. 42-44
2014:
10. The Structure of the Haplogroup C // The Russian Journal of Genetic Genealogy 6 (1) pp. 73-100
11. The structure of haplogroup C // The Russian Journal of Genetic Genealogy (Russian version) 6 (1), p. 28-54