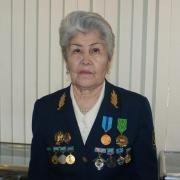 Nurpeissova Marzhan
Doctor of technical sciences
Professor
Mining and Metallurgical Institute named after O.A. Baikonurov
Email: m.nurpeissova@satbayev.111
Professional biography
KazGMI, KazPTI. KazNITU, Satbayev University
Graduate School - KazGMI (1960-1963); assistant of the Department of
Geodesy KazPTI (1964-1970);
Senior Lecturer, Department of Geodesy, KazPTI (1971-1974); Associate Professor, Department of Geodesy, KazPTI (1976-1995);
From 1996 to the present, professor of the Department of Mine Surveying and Geodesy Satbayev University
Education
Mine-surveying engineer, graduated from the Kazakh Mining and Metallurgical Institute (1960), full-time postgraduate study at KazGMI (1964).
Scientific projects
1962-1980 - contractor and executive contractor contract topics
the study of the movement of rocks in the mines of PA "Karatau".
1981-2000 - Head of research. contractual research topics
the process of displacement with a combined method
development of ore deposits of the Republic of Kazakhstan. 2002-2008 - Head of research. contractual topics on ensuring the stability of the sides of the Akzhal quarry and on monitoring deformations at the Tengiz, Botakhan oil fields.
2009-2011 - Responsible Project Executor
and the development of new methods and tools for geotechnological processes of ore mining, including forecasting the geomechanical state of mine workings. "
2015-2017 - Project manager "Reducing the risk of technological disasters through the development of innovative management methods"
2017 - Head of the research project "Expert evaluation of surveying software for ore residues and commercial products at the mining and processing complex of the branch of JSC TNK Kazchrome
2017 - Head of the research project "Geotechnical studies of rock stability and the issuance of recommendations for managing rock pressure during the excavation of vertical, horizontal mine workings and mining of ore bodies of the Akzhal deposit"
2019 - Head of the Research Institute "Study of the process of shifting the Verkhne-Andasaysky field"
Publications
1.
Nurpeisova, M.
B,
Kenesbaeva, A.
,
Levin, E.
,
Baltiyeva, A.
,
Nizamova, M.
,
Аitkazinova, S.
Journal of Advanced Research in Dynamical and Control Systems
, Volume 11, Issue 8 Special Issue, 2019, Pages 2075-2083,Geodynamic processes modeling on oil-gas deposits(Article)
https://www.scopus.com/record/display.uri?eid=2-s2.0-85077853955&origin=resultslist&sort=plf-f&src=s&sid=2e5a375a3c66b878805ba35ccf29d5f6&sot=autdocs&sdt=autdocs&sl=18&s=AU-ID%2857202218883%29&relpos=0&citeCnt=0&searchTerm=
2. Nurpeisova, M., Kartbayeva, K., Huayang, D., (...), Aimenov, A., Kapassova, A., Еxperience of geodesic observations in Almaty geodynamic polygon, Journal of Advanced Research in Dynamical and Control Systems, 11(8 Special Issue), с. 2068-2074, 2019
https://www.scopus.com/record/display.uri?eid=2-s2.0-85075990635&origin=resultslist&sort=plf-f&src=s&sid=2e5a375a3c66b878805ba35ccf29d5f6&sot=autdocs&sdt=autdocs&sl=18&s=AU-ID%2857202218883%29&relpos=1&citeCnt=0&searchTerm=
3.S. Aitkazinova, S. Soltabaeva, G. Kyrgizbaeva, K. Rysbekov, M. Nurpeisova Methodology of assessment and prediction of critical condition of natural – technical system, 6DOI: 10.5593/SGEM2016/B22/S09.001
2016 by Libadmin2016 https://www.sgem.org/sgemlib/spip.php?article8288
4. Nurpeissova, M., Bekbassarov, S., Bek, A., (...), Turisbekov, S., Ormanbekova, A, The geodetic monitoring of the engineering structures stability conditions, Journal of Engineering and Applied Sciences
12(Specialissue11), с. 9151-9163, 2017 https://www.scopus.com/record/display.uri?eid=2-s2.0-85047446430&origin=resultslist&sort=plf-f&src=s&sid=cd250243eda0a110a221e4627bccfb9b&sot=autdocs&sdt=autdocs&sl=18&s=AU-ID%2857202210760%29&relpos=0&citeCnt=0&searchTerm=
Potential research studies of doctoral students
1.Improvement of geodetic methods for monitoring deformation processes in the East Saryoba field
2.Improvement of methods for creating 3D models of open pit objects based on laser scanning (in the conditions of the Zhylandinsky groups of deposits)
3.Creation of geoinformation bases for forecasting pit wall stability (in the conditions of the Akzhal pit)
4.Improvement of geodetic methods for studying the stability of the pit walls and engineering structures at the industrial site