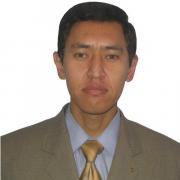 Omarov Gabit Serikovich
Senior Lecturer
Institute of Automation and Information Technologies
Department of "Cybersecurity, information processing and storage"
Email: g.omarov@satbayev.111
Professional biography
Kazakh National Technical University named after K. I. Satpayev., Educational institutions • University, Secondary school college, vocational school Senior lecturer Teacher of the subject - Blockchain technology January 2022 — present 11 months of JSC BCC-Invest Almaty, www.bcc-invest.kz / Financial sector • Financial and credit intermediation (stock exchange, brokerage, issuing and servicing of cards, risk assessment, exchange offices, lending agencies, collection, pawnshop, payment systems) Head of the Information Security Department Information Security Issues. January 2020 — January 2022 2 years 1 month Bank CenterCredit, JSC Almaty, centercredit.kz Financial Sector • Bank Senior Expert - Development and support of credit banking applications April 2016 — January 2020 3 years 10 months Cloudmaker, Almaty LLP, topksk.kz Information technology, system integration, Internet • System integration, automation of technological and business processes of the enterprise, IT consulting Team lead • Organization of the team's work. • Participation in project development topksk.kz , tophr.kz
Education
Bachelor, 1994 - 1998, Taraz State University. M.Kh. Dulati, specialty - Informatics and VT. Master's degree, 2017 - 2019, University of International Business, specialty - Informatics. Doctorate, 2019 - 2022, Satbayev University, specialty - Information security systems.
Publications
1. G. S. Omarov, D. Z. Dzhuruntayev, A, V. Varnavskiy (Satpayev University, Almaty, Kazakhstan, gabit.omarov@gmail.com) BLOCKCHAIN EXPLORER FOR ANY CRYPTOCURRENCY Abstract: For the transparency of the blockchain network, necessary to deploy the blockchain Explorer. This article discusses the possibility of deploying a blockchain Explorer for any cryptocurrency. Keywords: Blockchain, blockchain explorer, cryptocurrency, KZ cash, KZC. Г. С. Омаров, Д. З. Джурунтаев, А. В. Варнавский (Satpayev University, Алматы, Республика Казахстан, gabit.omarov@gmail.com) БЛОКЧЕЙН ЭКСПЛОРЕР ДЛЯ ЛЮБОЙ КРИПТОВАЛЮТЫ Аннотация: Для прозрачности сети блокчейн необходимо развернуть блокчейн эксплорер. В данной статье рассмотрена возможность развертывания блокчейн эксплорера для любой криптовалюты. Ключевые слова: Блокчейн, блокчейн эксплорер, криптовалюта, КЗ кэш, KZC.,