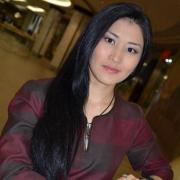 Sarbassova Aizhamal Beisenbekovna
Master of Historical Sciences
Senior Lecturer
Institute of Project Management
Email: a.sarbassova@satbayev.111
Professional biography
since September 2021 - till the present time Satbayev Kazakh National Technical University.
since September 2017 - 2021 Kazakh Academy of Transport and Communication. M. Tynyshpaev (KazATK)
from October 2014 to August 2017, the Kazakh Academy of Labor and Social Relations, senior history teacher.
from September 2010 to 2014 - the Kazakh Academy of Transport and Communications. M. Tynyshpaeva, teacher of history.
From 2009 to 2010 - school-gymnasium No. 139 named after A. Baitrursynov, teacher of "History".
from 2005 to 2006 - Kazakh State Women's Pedagogical Institute, laboratory assistant of the Department of "Rights and Economic Theory".
Education
Faculty of History, Al-Farabi Kazakh National University
Scientific projects
Scientific interests: History of Kazakhstan, world history.
Publications
1) Kazak duniyetanymyndagi tanyrlik senim. Abay atyndagy Kaz UPU Khabarshysy, "Tarikh zhane sayasi-aleumettik gylymdar" seriyasy, 320-324 bb, No. 1, 2018
2) Abay enbegindegi zheke tulga maselesi. Kazak tarikhy 44-45 p. No.9(166),2018
3) "Ulttyk bas kiimderdin kogamdagy roli". Abay atyndagy Kaz UPU Khabarshysy, "Tarikh zhane sayasi-aleumettik gylymdar" seriyasy, No.9, 2019
4) Bilim beru zhane dini extremism ugymdaryn mani men manyzdylygy. Abay atyndagy Kaz UPU Khabarshysy, "Tarikh zhane sayasi-aleumettik gylymdar" seriyasy, No. 3 (66), 2020
5) The patriotic consciousness of the Kazakh people is the basis of the prosperity of the state. Rivista di Studi sulla From the walls and belita. Issue 2, 2020, Pages 35-48. (Scopus, quartile: 2nd quarter, percentile 69) Italy, Paris 2020