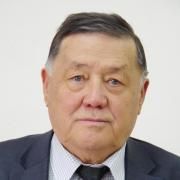 Takhanov Zhassulan
Honorary Architect
Associate Professor
Institute of Architecture and Construction
Architecture
Email: zh.takhanov@satbayev.111
Professional biography
Takhanov Zhassulan Mukashevich has extensive work experience in the field of architectural design and management of design and construction activities. In different years worked:
1967-1970 – architect and senior architect at the Institute "Kazgosstrakh»;
1971-1988-chief architect of the district of the Main Department of architecture and urban development;
1975-1990 - along with practical and creative activities, he taught at the Almaty branch of the all-Union correspondence engineering and construction Institute for more than fifteen years.
1988-1991-chief architect Of the design Institute "Kazgiproselkhoz@;
1991-1998-chief engineer Of the design Institute "Kazproekrestavratsiya»; During this time, with his direct participation, a number of unique architectural and urban planning nodes and objects were built, such as the Medeu sports complex, the peoples ' Friendship building, and the square named after him.Abaya with the high-rise hotel "Kazakhstan", the complex of the District house of officers and other objects.
1998-2012-adviser to the mayor on architecture, construction and land reform of the Akimat of Medeu district of Almaty.
Since 2014, he has been working as a Professor of the Department of Architecture at the Institute of architecture and construction named after T. K. Bassenov, Satbayev University.
Has a number of state awards:
The order "Kurmet"(2018) *
Medal. T. K. basenova "for contribution to architectural education" (2015)
Professor of the International Academy of architecture (2013 г.)
Medal "20 years Of independence of Kazakhstan"(2011)
Gold medal of the Union of Architects of Kazakhstan "for contribution to architectural activity" (2010))
Medal "10 years of Astana" (2008)
"Honorary architect of Kazakhstan"(2004)
The badge "Madeniet salasini SDG»
Education
1961-1966-Kazakh Polytechnic Institute named after V. I. Lenin (Satbayev University), Almaty, diploma of architect.
1969-1970 - Moscow architectural Institute. Advanced training course for architects
Scientific projects
1 History of architecture of Kazakhstan. (for the first time in the Kazakh language)
2 Textbook "Архитектура саласы бойынша қазақша-орысша қысқаша суретті сөздік". Almaty, 2017 г.
Publications
Author of the textbook: "History of architecture of Kazakhstan". Almaty, 2019;
A Brief illustrated Russian-Kazakh dictionary of architectural terms. Almaty, 2017